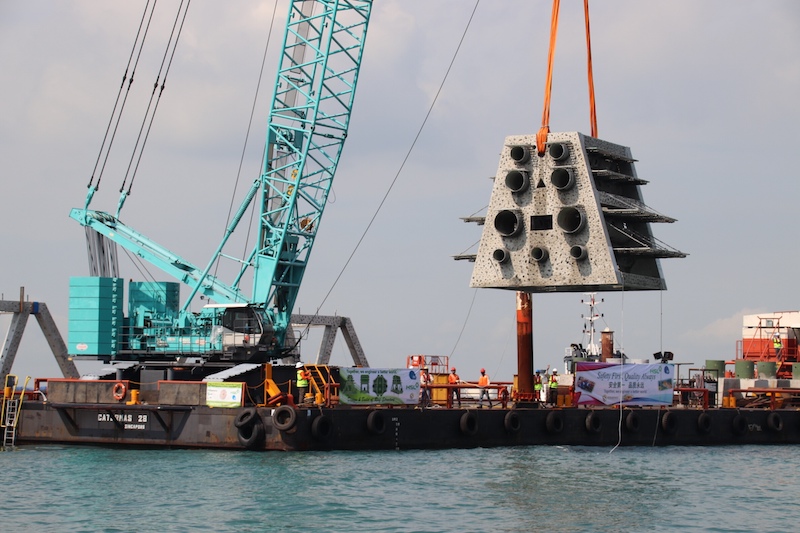 Over the last five decades, Singapore has successfully built quality high-rise public housing that now houses over 80 percent of its resident population. But increasingly, it is not just people but also animals in the city-state that can proudly claim to live in a home designed for them.
From intelligent nests for hornbills to hotels for bees, the government has been creating structures to help different species thrive in an effort to strengthen Singapore's biodiversity. One of its newest initiatives is the nation's largest purpose-built reef within the waters of Sisters' Islands Marine Park, located just south of the mainland. Five 11-metre and three 6-metre tall structures have been installed on what was previously relatively flat and bare seabed. Akin to three-storey terrace houses, they hope to eventually be home to some 1,000 square metres of reef substrate and other marine life. If successful, this pilot will pave the way for future restoration efforts in Singapore. Over the years, the city-state has lost some 60 percent of its reefs because of extensive development and reclamation over the years.
The government agency JTC first conceptualised this project in 2010 to support efforts in enhancing the city-state's marine biodiversity, particularly in the face of climate change and increasing coastal developments. While it is better known for the planning and development of Singapore's industrial infrastructure such as the petrochemical complex, Jurong Island, this was an opportunity for JTC to lend its engineering and design expertise to scale up previous efforts to restore the city-state's coral reefs.