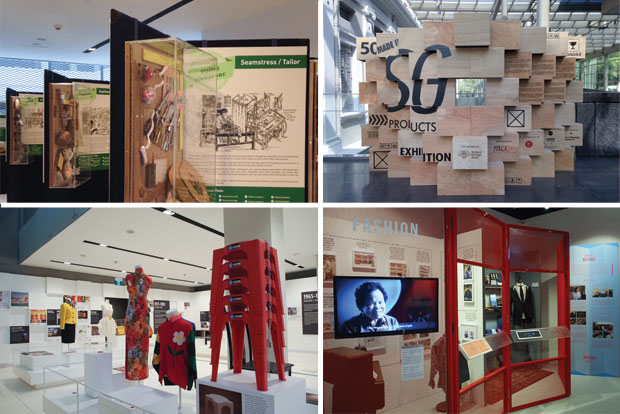 "Made in Singapore" has always been a challenging term for Singaporeans. Manufacturers grumble about the high costs of labour and land here. Designers lament the lack of expert collaborators willing to experiment and innovate. Consumers complain about paying a premium for local products that are no better than overseas imports.
Four on-going exhibitions in Singapore coincidentally retrace the nation's history of making, offering an opportunity to understand and reflect on some of the issues that plague craft, design and manufacturing in the city-state today.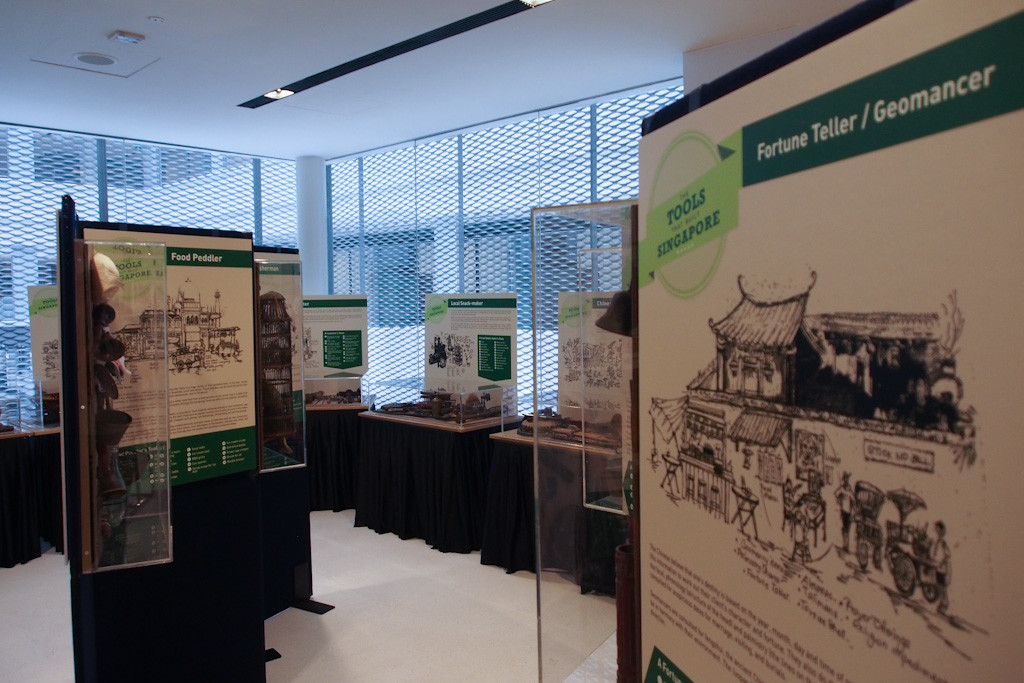 Young Singaporeans fascinated with crafts today will be surprised to learn that what they pay to learn in workshops today was once the means for their forefathers to make a living. The Tools That Built Singapore (June 1 to 15 September) showcases 313 tools from 20 old trades such as seamstress, barbers and cobblers that have died or are dying out as the city has modernised. Examining these tools, which belong to private collector Winston Wong, visitors will be fascinated and intrigued by the expertise needed to carry out these jobs that many now shun as low-skilled. Unfortunately, this traveling exhibition offers no answers as the tools are displayed with little explanations on how they were used.
While tools may have built early Singapore, it was the industrial machines which replaced them that made the city what it is today. The National Heritage Board's 50 Made in Singapore Products exhibition (15 July to 13 September) shows the output of Singapore's industrialisation since the 1930s as the government sought to grow the economy and tackle unemployment. Showcasing Setron television sets, Swan Socks and Creative Technology's Soundblaster cards, the exhibition at the National Museum of Singapore offers Singaporeans a trip down memory lane but left unsaid is how these are also artefacts of how challenging it is to manufacture in a nation of such a small population and economy. Many of the exhibited businesses—which span the food, fashion, medicine, household, electronics and transport industries— have closed down, move their manufacturing operations overseas or been bought over by multinational corporations (MNCs). Today, the manufacturing sector contributes between 20 to 30 per cent of Singapore's annual Gross Domestic Product, but two-thirds of this output is by MNCs and local manufacturers are oriented towards the export market, churning out products devoid of local character.
Growing alongside Singapore's manufacturing industry over the last five decades is a design sector, which has created its own national narrative in DesignSingapore Council's Fifty Years of Singapore Design exhibition. Curated by architecture firm WY-TO, this permanent display at the newly opened National Design Centre celebrates the growth of an industry that took root here originally as a supporting industry for Singapore's industrialisation. With the government's shift towards the service and knowledge economy in the new millennium, design has become part of a creative industries that is expected to power Singapore into the future. The exhibition reinforces this idea by retelling the development of design in Singapore in context of its economic history over the last five decades. Assembled for the first time is a rare selection of "iconic, popular and pivotal" designs that range from the sarong kebaya that French haute couture designer Pierre Balmain designed for the national airlines' Singapore Girl in 1972 to the ubiquitous kopitiam plastic stool that Design Counsel's Chew Moh-Jin created for Singa Plastics in the 1990s. The exhibition accelerates through Singapore's design history in chronological order, starting from the nation-building years, to the economic boom of the mid-70s to mid-80s, the arrival of new technologies, the push to go global and concludes with how a new generation of designers are "Looking Back, Looking Forward"—a nod to the renewed search for local designs in a global context.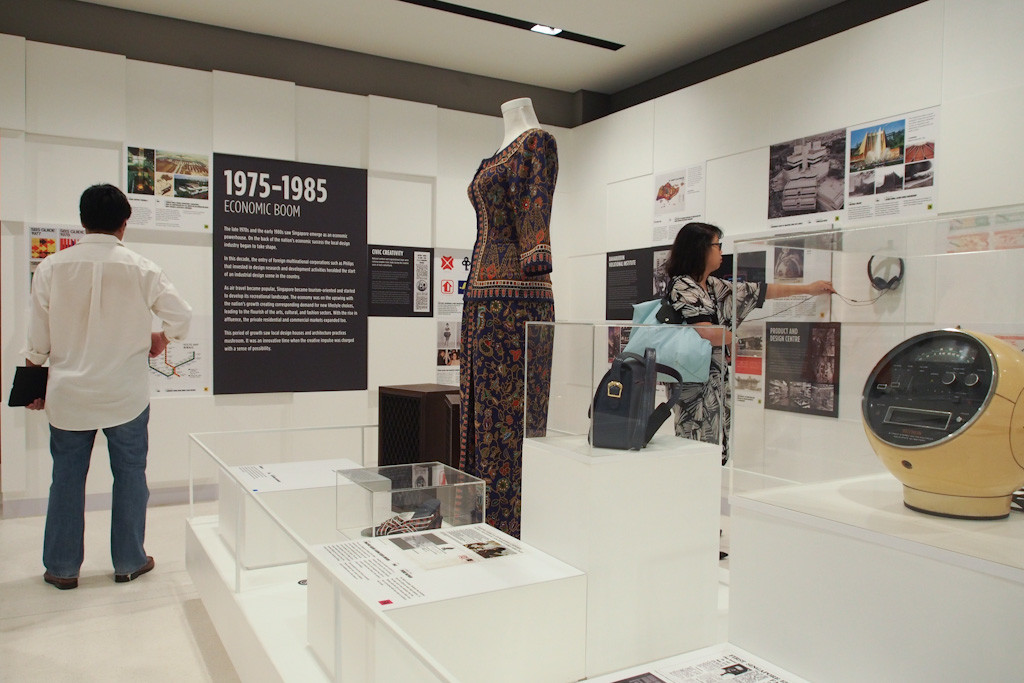 Arriving at a similar conclusion is the Craft | Singapore (23 July – 21 February 2016) exhibition put up by the Singapore Tourism Board on the second storey of its visitor centre on Orchard Road. Curators Shophouse & Co have picked out eight examples of how traditional trades in design, food, performing arts and fashion have evolved (or in the exhibition's terms: reinvent, reinfuse, revitalise and refine) with the times. Other cities may pride themselves on how well they have preserved traditions, but this exhibition accepts the Singapore condition of change as inevitable and focuses on how craftsmanship has survived through invention instead. For instance, designers Lanzavecchia + Wai learnt the technique of hand-making traditional lion head masks from Mr Henry Ng to create a series of one-off modern lighting objects. A more instructive example of how craft has survived in Singapore is the journey of heritage tailor CYC The Custom Shop. Over its 80 years history, the local company has gone from custom-making shirts to mass manufacturing, and recently, returned to its bespoke roots and expanded this service to overseas markets.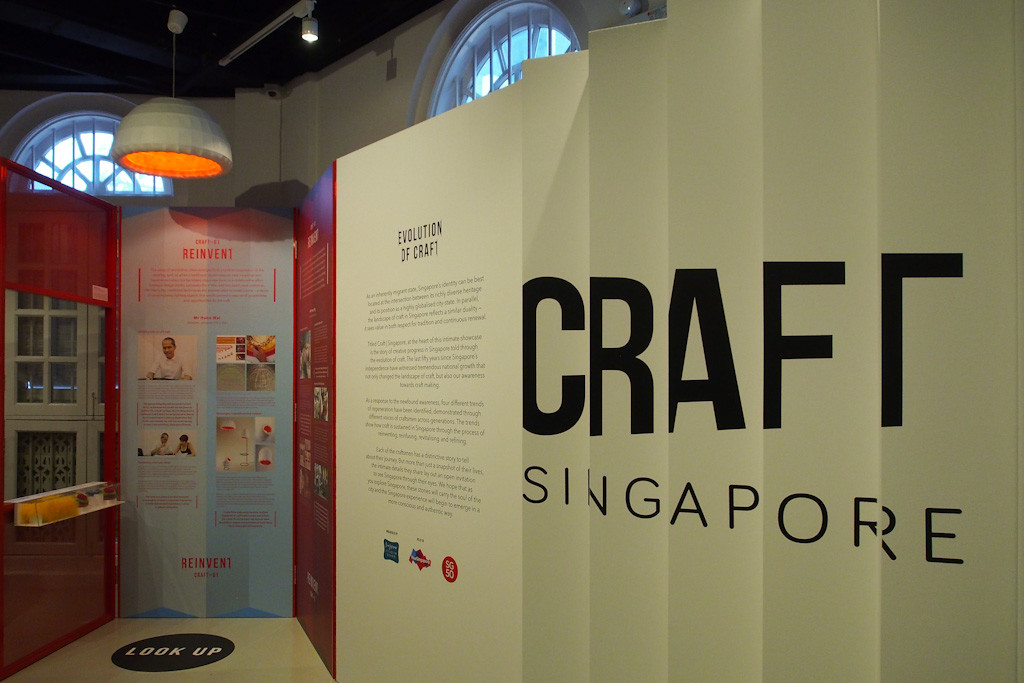 Something "Made in Singapore" today cannot hark back to a unique heritage as the tools of our traditional craftsmen have become antiques for display. Instead, the histories in these exhibitions point to local manufacturers and designers finding success—particularly, economic success—in producing anonymous products for the global mass market or limited quantities of locally-inspired designs aimed at tourists and patriotic Singaporeans. The economics of global manufacturing today simply dictate this to be so.
What may be more worthwhile to consider is products "Designed in Singapore", where concepts are developed locally but made overseas instead. One example is Supermama's porcelain plates which collaborates with Japanese craftsmen to manufacture works by Singapore designers. The Singaporean label's latest "Souvenirs from Singapore" products—a Merlion plush toy, the dragon playground transformed as door stopper—are local icons mass manufactured in China. As I have argued elsewhere, in today's open economies, our idea of what is local cannot ignore the global context.