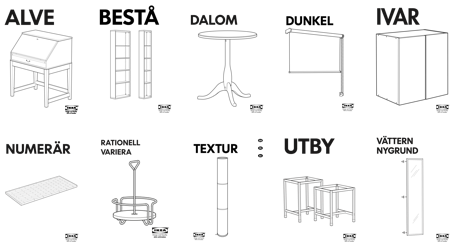 No words are needed when it comes to assembling a piece of IKEA furniture. Whether it's a chair, a shelf or even a bed frame, the wordless instruction manual accompanying the company's flat-pack furniture proves that regardless of language or culture, anyone can put together something just by following a few pages of illustrations.
Every IKEA manual begins with a promise: an image of what the furniture looks like after assembly. In case customers are nervous about putting together their own furniture, a comic strip featuring a friendly IKEA executive assures them that any doubts can be cleared by calling the company directly—although no number is provided. After going through a check-list of the provided screws, washers, and tools, the customer is ready to self-assemble. Step-by-step, the pages of black-and-white line illustrations demonstrate the making of the furniture as the pile of parts in front of the customer effortlessly float into place.
If only this was the complete truth. The reality is never as simple as instruction manuals display them to be. But it's not that IKEA's instruction manuals are not well-designed—their simplicity makes them effective. However, these thin A4-size throwaways, printed on standard copier paper or downloadable online, belie a complex design system that the Swedish furniture company has constructed for its needs. From the way a piece of furniture is produced from the ground up to fit into a flatpack, to how a customer conveniently picked it up in stores to bring home on their own, and even in the final act of self-assembly, IKEA has designed everything about its business in the most rational and cost-efficient way possible.
The company has adopted a systematic design approach as expressed across its instruction manuals. Take its IVAR cabinet for instance, this piece of furniture is broken down into modules which customers can reassemble just by following an 11-steps instruction. The cabinet uses a set of tools and screws that belong to a larger IKEA universe. According to the accompanying instruction manual AA-54679-2, the hexagon key numbered 100001 is used to tighten screw number 100214. The same key can also be used on screw number 105236 when putting together the HEMNES bed frame, says its corresponding manual AA-55888-12. All the required parts and tools needed to build an IVAR cabinet also fit into a flat pack labelled 400.337.63. This set of numbers helps a customer easily locate and pick up the package from the warehouse of any IKEA store in North America, Europe and even the Middle East!
The idea of selling flatpack and self-assembly furniture came to IKEA by accident in 1953. After a photo shoot for the company's mail-order catalogue, draftsmen and photographer Gillis Lundgren took off a table's legs so he could fit it in his car and avoid damaging it during transit. IKEA's founder Invar Kampard realized that such knockdown furniture could lead to significant cost-savings as the most expensive parts of his business—transportation and assembly—were passed on to customers. By 1956, flatpack and self-assembly became the hallmarks of IKEA's furniture designs, and this eventually led to the need for its now distinctive instruction manuals. The adoption of such a design approach also helped this Swedish mail-order company grow from selling a variety of goods to becoming a multinational furniture retailer. In 2013, there were 345 IKEA stores across 42 countries, which generated a total revenue of €29.2 billions.
Today, the company calls its systemic design approach, "Democratic Design." This is made up of five elements—form, function, quality, sustainability and a low price—but it is the cost of a product to consumers and IKEA that truly defines it as "democratic." In a 1995 publication celebrating IKEA's 50th anniversary, the company explained that price is the "most critical dimension for those who seek to make good design and practical function available to the many, not just the few." Even though many people like IKEA for its clean and simple aesthetic, such modern designs are driven by the pragmatic ideology of cost rather than style. As IKEA elaborated in its anniversary book, "producing beautiful furniture is not difficult. The difficultly lies in producing it at a price which most people can afford to pay."
But is affordable furniture necessarily democratic design? While IKEA has made it easier for people to furnish their homes, the instruction manual accompanying its self-assembled products is a reminder of who retains creative control. There is only a single design outcome when assembling a piece of IKEA furniture, one that the company has designed to be cheap enough to mass produce, and will generate for it high revenue. This authoritarian streak stretches from its furniture into the company ownership structure, matching Kampard's first commandment of what IKEA stood for in 1976: "The Product Range Is Our Identity." A few years after outlining this commandment along with eight others in "A Furniture Dealer's Testament," Kampard restructured IKEA to give it what he called "eternal life." By splitting the brand concept and its retail operations into two different companies, Kampard protected the IKEA brand from any hostile takeovers, kept it in private hands, and also allowed the company to expand internationally through franchising. But even as he opened up the brand to the world, Kampard protected his vision of IKEA with an extremely well-specified set of franchising conditions. Everything from a store's product range to interior design is determined by IKEA and any deviation must be approved by the brand owner. Just like how an IKEA furniture comes with an instruction manual, franchisees are invited to build their own IKEA store—as dictated by Kampard. It perhaps comes as little surprise then to learn of this man's fascist past. At the age of 17, Kampard was an active recruiter and registered member of what eventually became the Swedish Nazi Party. In IKEA, Kampard built a corporate version of a totalitarian regime, which as Bertil Torekull, author of Leading by Design: The IKEA story, notes, "Thanks to his vision, IKEA may sell furniture that is taken apart and then reassembled, but the company itself can never be dismantled."
While IKEA's longevity is currently not in question, its claim of offering "Democratic Design" is being challenged by a community that disregards its instruction manuals. Calling themselves "IKEA Hackers," they use the company's affordable furniture as raw materials to design their very own creations. Some are simple acts, such as turning the generic Lack side tables into personalized furniture with buttons, staples and paint. Others are elaborate re-imaginations of how IKEA intended their designs to be used. Four Knuff magazine files, a Frosta stool, and a Snudda lazy susan make a coffee table. Its Trofast toy storage boxes become wall shelves and ceiling lamp covers. A Bolmen step stool becomes a display top for a jewelry seller. While these DIY creations echo the maker movement that has become the buzz in recent furniture design, they are not expensive artisanal creations. There is a much more democratic spirit and celebration of the creative spirit in every one of us. As a user who turned a £5 Lack side table into a platform for her godson to store and play LEGO with declared, "Total cost of project less than £20, similar lego table on amazon £113." Kampard would surely approve.
Such hacks embody a hope that designer Victor Papanek had for IKEA close to two decades ago when he penned an essay for its publication, "Democratic Design: A book about form, function and price—the 3 dimensions at IKEA." He urged the company to give a "meaningful choice to consumers" by letting them buy their products in three forms: fully assembled, in a kit that people could get others to put together, and also as a package that users could complete and "improve upon by themselves." After all, he said, "One of the most important tasks of manufacturing and design lies in opening new options to the user." This is perhaps a more holistic definition of "Democratic Design"—one that is not just about a great offer, but also contains great offerings. IKEA already allows customers to exercise creativity via consumption, offering a variety of designs that can be mixed and matched to fit one's needs and tastes. Would the company go a step further and facilitate creation too? The technology is already available as designer Daan van den Berg demonstrated with his Merrick lamp, a speculative design which suggested how standard IKEA Lampan lamps could become unique creations if one had access to the company's CAD files and a 3-D printer. Imagine if along with IKEA's annual catalogue of products, consumers were also mailed a list of all its parts and tools with their corresponding serial numbers too. One could pick and choose from IKEA's system of parts, design their own furniture on a computer, and pick it up flat packed with their very own instruction manual to self-assemble. When IKEA empowers the people to be "Democratic Designers", that would truly be "Democratic Design".
———–
Written for Steven Heller's Researching Design class at D-Crit.