"The presentation of specimens is invariably poor and the standard of work is no better than you would expect in a country where no formal training exists in the branches of Graphic Design related to Advertising," wrote Brian Hoyle in the 1963 Annual Advertising Award. This was what led the creative director of Young Advertising and Marketing Ltd to establish this awards—one of Singapore's earliest prize for creative work in advertising—together with a committee of expatriates from the city's various advertising agencies. Known as the Creative Circle Singapore, this group of the Singapore Publicity Club, was founded in 1962 to "stimulate an awareness of and a keener appreciation of visual creative standards in advertising", largely through the awards.
The inaugural award received over 100 advertisements of "local creative origin" used during 1962  to see which were the best colour advertisement, black and white advertisement, photograph, publicity, radio commercial, and cinema advertising. There was also an overall winner. This "favourable response" led to an expansion of categories the following year, adding on best packaging, calendars, posters, brochures (including direct mail) and leaflets. All the entries for this second edition of the awards were judged in Australia by the Federal Committee of the Australian Commercial and Industrial Arts Association (ACCIAA). Of the 12 categories available in 1963, the Singapore and Malaysia branches of UK-based S.H. Benson International (which later became part of Ogilvy & Mather) swept up most of the awards with Hoyle's Young Advertising & Marketing Ltd (renamed in 1966 as London Press Exchange (LPE) Singapore) coming in runner-up.
All the entries for the 1963 award were captured in the black and white annual printed by Cheong Press. Inside are also valuable profiles on members of the creative industry then and also essays on the standards of creative advertising and copywriting in Singapore and Malaysia. Contrary to the popular notion in these regions that "white men" came here to unfairly dominate the advertising industry, there were written pleas in the annual for locals to eventually captain their own industry. As Hoyle noted in his foreword. "The need is for top creative people to originate and lead in this field—in their own country." (Bold emphasis are his). This was of course not entirely selfless. In another essay, Allan J. Barry from another agency Papineau Advertising, noted that "advertisements prepared for other markets are being used in Malaysia" but the country was a unique market that needed its own approach to selling.
"If you are prepared to accept this proposition you must also be prepared to accept the corollary that the people best suited to created the most effective approach for this market are the creative staff of local advertising agencies."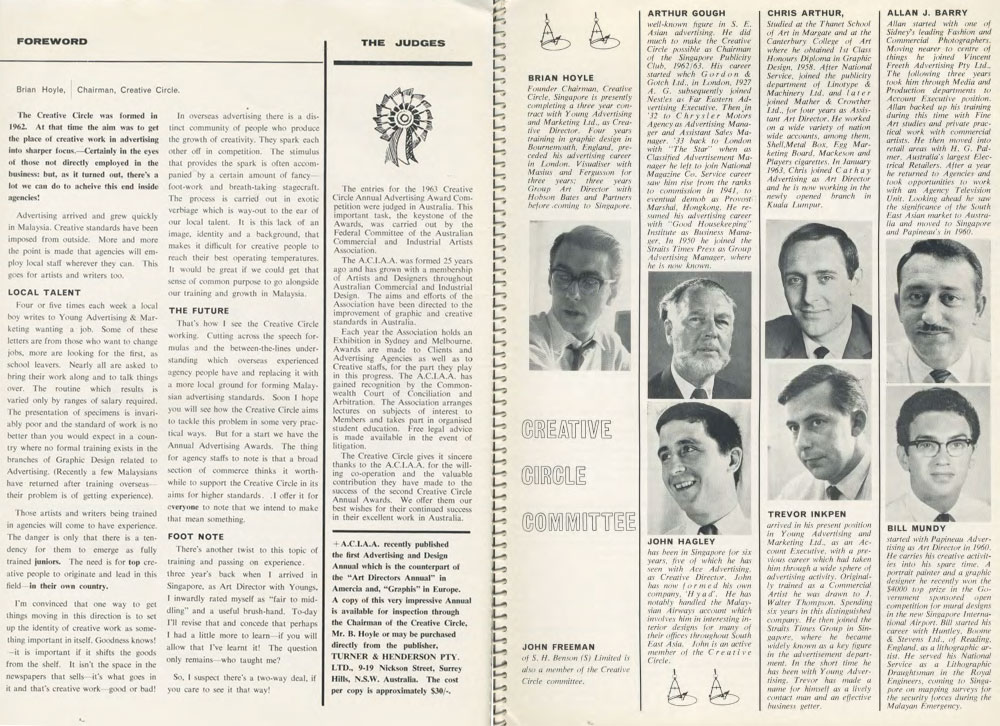 In the course of my research for my book, Independence: The history of graphic design in Singapore since the 1960s, Brian Hoyle was kind enough to send over a copy of this historic annual advertising award. Thanks to designer Bernard Tan, a scanned copy of the annual is now freely available for download for research purposes. Do note that it is missing some blank pages and also one on the full list of winners.
References