Ambassador-at-large professor Chan Heng Chee and her brother Chan Heng Wing recall what life was like growing up at No. 125 Joo Chiat Place.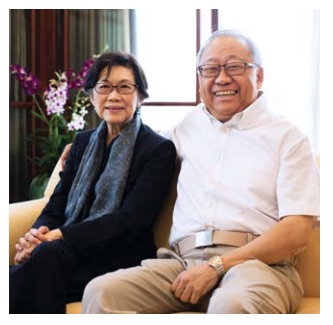 Its washed out facade, tinged in a patina of ochre and powder blue, and the fading "Lucky Book Store" signage stenciled just outside the entrance hints at the past lives of No. 125 Joo Chiat Place.
A modern family home today, this 1920s Transitional-Style shophouse is part of a row of conserved residences bounded by Everitt Road, Joo Chiat Terrace and Mangis Road. In 2013, it was lovingly restored by CHANG Architects and owners Low Junri and Denise Wong. The result is an award-winning design that reflects the almost century-old building's history as a bookshop and home of families, an effort that garnered URA's Architectural Heritage Award in 2013 and a jury commendation at the 2014 UNESCO Asia-Pacific Heritage Awards.
Two former residents were the Chans who lived in this double-storey building in post-war Singapore. Professor Chan Heng Chee, the ambassador-at-large with the Ministry of Foreign Ministry (MFA) and her younger brother, Chan Heng Wing, senior advisor at MFA, still recall fondly the fun times growing up in the neighbourhood with their two other siblings, parents and grandmother. Racing down the five foot way that connected the row of shophouses, going around the neighbourhood hustling mahjong kakis for grandmother, and cooling down in the tropical heat with ice balls from the coffeeshop down the block, Joo Chiat Place was a playground for the siblings born four years apart.
➜ Read the full story in the Urban Redevelopment Authority's Skyline (6/2017)