Singapore's climb from a Third World country to a First World nation was made easier, thanks to the escalator.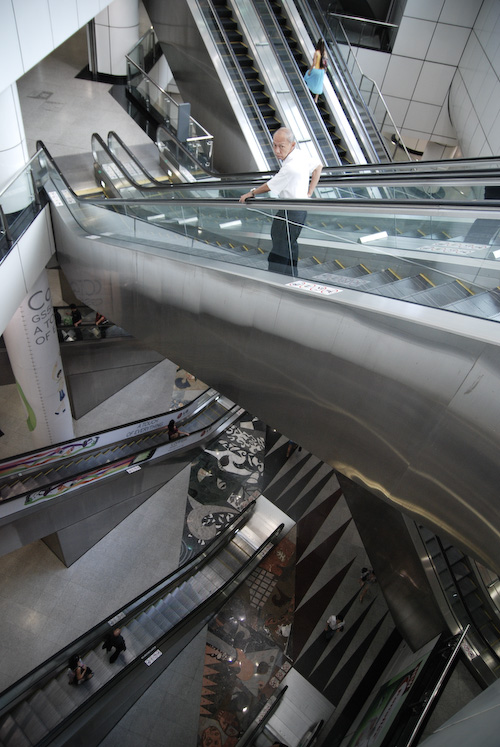 The year 1965 was a revolutionary one for Singaporeans. On August 9, Singapore separated from Malaysia and embarked on its own journey through nationhood. But, a much more quiet revolution happened just seven months earlier. Amidst the opening fanfare of the Orchard Theatre and Jackie's Bowl along Grange Road, many Singaporeans visited this "supermarket of entertainment"[1], and for the first time in their lives experienced travelling on an escalator.
Some 45 years on since those first-ever escalators were installed in Singapore, it is now almost impossible to imagine going around this city without it. It is a badge of status for a modern city, and Singapore has some 44,000 escalators[2] to help move its people everywhere today – through office buildings, shopping malls, train stations and even parks! Silent and convenient, it is the perfect travel companion through this air-conditioned nation.
THE CITY'S ESCALATION
The rapid adoption of the escalator has stretched the Singapore city –   "expanding like an accordion, up and down at once"[3]. The Orchard Theatre escalator was only 5.18 metres long, but by 1993, Singapore's longest escalators. in City Hall train station, were twice as long[4]. The Singapore Indoor Stadium once boasted the city's highest outdoor escalator with a vertical height of 7.15 meters[5]. Today, Orchard Central shopping mall has one three times taller![6] But even that is half the 41-metres escalator inside Bras Brasah MRT station[7].
The escalator has also helped give birth to the shopping mall, the second home of Singaporeans. On it, shoppers can window-shop effortlessly from one level to another, just like how a 1976 advertisement for Far East Shopping Centre proclaimed: "Escalators take you to more than 190 shops on 7 floors – for complete shopping convenience"[8].  In fact, escalators shaped the early shopping malls. Their insides are usually large rectangular atriums that let shoppers survey the entire mall while travelling up and down the stack of escalators on both ends.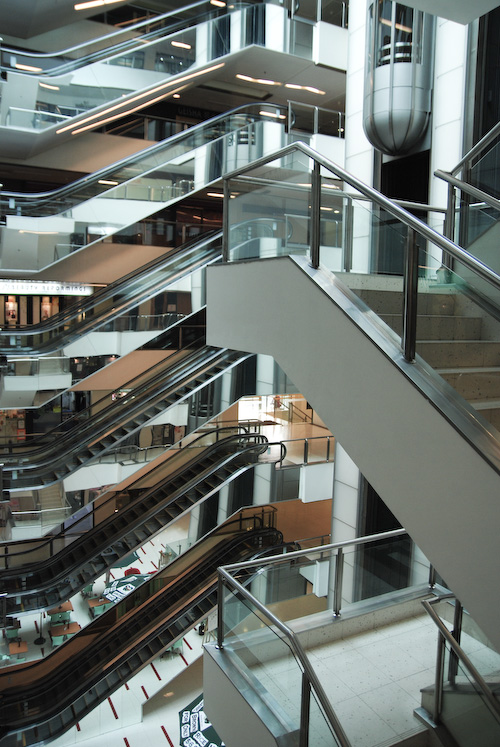 Today, the escalator has even become an attraction. Orchard Point shopping mall shelled out two million dollars in 1992 for Singapore's first pair of curved escalator just for their "novelty factor"[9]. The latest rage nowadays are outdoor escalators that line the facades of malls like the revamped Wisma Atria and new ones like Illuma[10].
SERVING ESCALATING NEEDS
Despite its ubiquity, escalators are a contradiction in the Singapore city. On the one hand, they are symbols of a developed nation. Travelling on escalators instead of using the staircases is akin to saying we're already there and the only way is up. But, this is also the mentality the government is always guarding against. Singaporeans must never be too comfortable. Or as a motivational poster found in MRT stations succinctly puts it: "There is no escalator to success, you have to take the stairs."
But, such exhortations may have come too late. During a 1993 National Healthy Lifestyle campaign, Singaporeans were encouraged to take the stairs instead of the escalators. It never took off. "Taking the escalators has become a natural reaction for many of us," said a Singaporean. Take the stairs? "Unless there's no choice, say when the escalators break down."[11]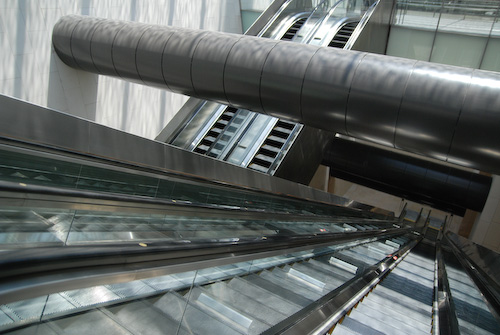 And while we can afford to install escalators, we can hardly enjoy them in our fast-paced city. Escalators at MRT stations travel at a speed of 0.75 metres per second, 1.5 times faster than those in shopping malls[12], but just ride on the escalator in the city stations during rush hour mornings. You'll hear the office crowd's collective groans as their precious seconds tick away.
While people were already writing in to the local newspapers in the '80s to appeal to Singaporeans to cultivate the habit of keeping to one side so that those in a hurry could pass through on the other side[13], it took another 17 years before SMRT began campaigning commuters to do so[14].
For years, SMRT wanted Singaporeans to use escalators like Singaporeans – safely and efficiently. As its spokesperson explained in immaculate detail in a reply to the newspaper forum, "Each escalator, which has a step-width of one-metre to accommodate two persons standing side by side, can move about 7200 people per hour" [15].  Introducing a keep-right, or -left, rule would slow down movement, as "one side of the escalator will not be utilised fully especially during peak hours". Plus, it was safer to "stand on the steps of the escalators and hold on to the handrails at all times instead of walking when using the escalators".
Today, in line with the government's more liberal view of things, Singaporeans practice the art of "expresscalating"[16] like in major cities around the world such as New York, Taipei and London. No more groupthink and hyper-safe mindsets. Instead, for those brief minutes of an escalator ride, an ideal society exists: regardless of who you are or where you come from, the escalator serves all at a constant speed – and if that's not fast enough, you have a choice to keep to the right and speed on.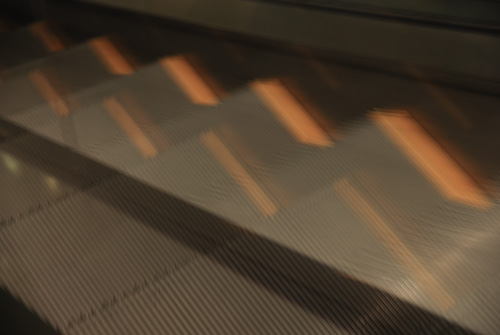 —————————————————————————————————————————
---