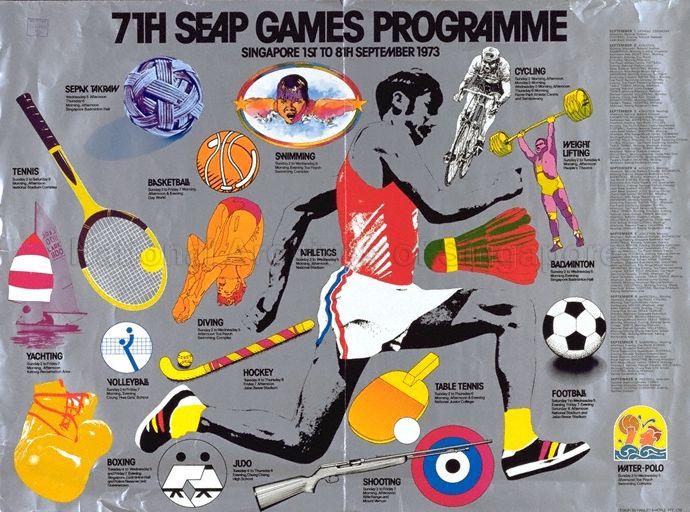 It was a breakthrough project for both designer and client.
The 1973 Southeast Asian Peninsular (SEAP) Games was the first time the young nation of Singapore held a major international sporting event. It also led to this ground-breaking poster by local design consultancy Hagley & Hoyle.
Splashed across a silver background were a boxing glove, a Sepak takraw ball, a weightlifter, and other elements from the 18 sports played at the games. This universe of beautiful illustrations and photo-imagery gravitated around an athlete in mid-stride to make a stunning introduction to this competition that featured over 1,600 athletes from Thailand, Malaysia, South Vietnam, Laos, Burma (now Myanmar), the Khmer Republic, and Singapore.
"It was quite a departure from what was acceptable at that point," says then creative director Brian Hoyle. He had worked with his late art director Wong Mun Kin to conceptualise this 77-by-122 centimetres poster that listed out the week-long programme for the seventh edition of the games.
As the British expatriate recalls, design in Singapore was then thought of as just having images and text orderly lined up and "squared up in boxes". Only a few years before, his studio had worked on a poster commemorating 150 years since the British founded modern Singapore which neatly listed out everything in two columns.
This 1973 SEAP Games poster, however, broke out of the box with its bold use of colour and imagery. It was a design that even Mr Hoyle thought was too "far out" for his clients, Mr Roy Daniels and Mr Alex Josey then working for the Ministry of Culture and National Sports Promotion Board respectively.
"The clients recognised what they thought was a good idea and a good style of presentation. I was quite pleased about it," says the 80-year-old who is now retired in the UK.
Convincing the client was only half the battle won. In the days before computers were used in design, creating this complex design meant the use of many manual processes. Designer Peggy Tan, who had just joined the studio that year, explains how the illustrated photographs would have be converted into line prints before being stuck down piece by piece and the copy had to be pieced together separately by a typesetter before the poster was ready to be printed.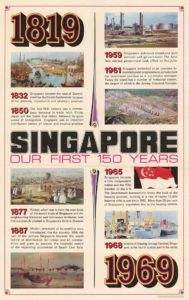 "As a montage it was quite bold. It generated buzz simple because the images were created through different methods," said Miss Tan who took over the business from Mr Hoyle and continues to run it today.
This unconventional poster was eventually put up in schools, offices and even housing estates all across Singapore. Despite the significance of the event, Mr Hoyle says it was simply another job for his then four-year old studio to prove the effectiveness of good design to clients in Singapore. In 1969, Mr Hoyle and fellow British expatriate John Hagley had set up their pioneering graphic design consultancy in an industry dominated by advertising agencies. While agencies profited from booking advertising space in media outlets, the duo wanted to make a living from offering design solutions instead. Hagley & Hoyle was part of a handful of early studios who helped the graphic design industry take root in Singapore.
The successful hosting of the 1973 SEAP Games also led Singapore to host subsequent editions of the competition now know as the Southeast Asian (SEA) Games—most recently, the 2015 edition. Along with the games also came the National Stadium and the formation of the Singapore Sports Council, both of which laid the foundation for today's Sports Hub, Sport Singapore and the country's aspirations to become a sporting nation.