Before Singapore became a city of glass and steel skyscrapers, it was a town built out of bricks made on the very shores of this island. "Our Brick Estate" is an on-going exhibition traces the history of this construction material in Singapore, rebuilding the history of the local brick industry by assembling a collection of Made-in-Singapore bricks at the library@esplanade. Architectural and urban historian Lai Chee Kien, who curated this exhibition, tells us more.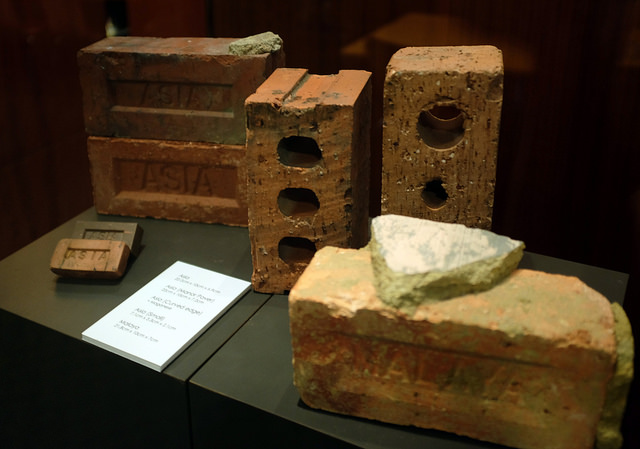 How did this exhibition come about?
The library@esplanade has seven vertical glass showcases used for exhibition every August for topics related to National Day. This year, a friend — Ms. Khoo Ee Hoon, suggested I curate one about bricks found in Singapore. She had heard my comment while documenting Bukit Brown Cemetery tombs, that bricks of all types from Singapore could be found there. She was also an avid collector of these bricks.
Where did you find the bricks for this exhibition?
The bricks came from several collections including Ee Hoon's, those of Mr. Jevon Liew, and those excavated by a friend, Dr. Anoma Pieris, in 2001 while working on the former convict prison site at Bras Basah during the construction of the Singapore Management University. Together, they constitute an almost complete collection of bricks from most of Singapore's important brick factories after World War II, as well as the early hand-made bricks which were thinner (about 1.5 inches thick) and coarser in finish.
Why were bricks made in Singapore?
Even during the classical Malay kingdom period when structures were constructed on Fort Canning, bricks would have been used. In 1822, the first Town Plan of Singapore mandated permanent materials to be used, and various brick kilns were set up around the Rochore-Kallang river areas. In 1858, the colonial government started its own brick factory, and the industrial methods produced bricks good enough to win prizes, as they did in Agra exhibition in 1867. Bricks were continually used in construction as many areas in the southern and western areas of Singapore had good quality clay to be used as raw materials for the bricks. There was a labour and price crisis in the 1950s when many factories closed, but the next decade onwards saw a rekindling of the industry when the Singapore government embarked on a large scale development programme including housing. By 2000, however, the factories' land in Jurong and Choa Chu Kang were acquired to create new housing estates.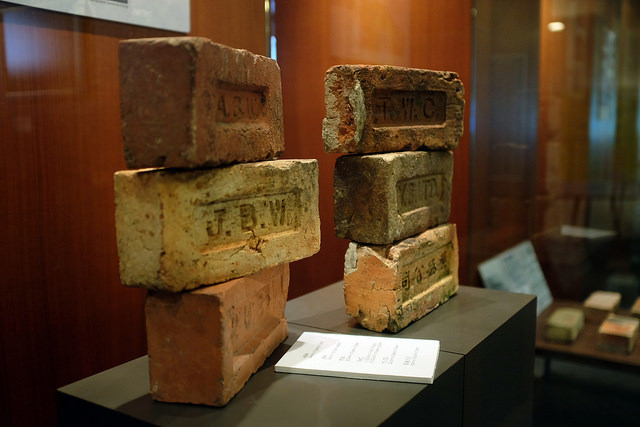 What were bricks made in Singapore like? Were they unique in anyway? (e.g. material, quality)
They were various types of bricks made in Singapore, including white bricks using a different clay. I think the development from the traditional kiln to more industrial kiln types, like the Hoffman kiln and later the tunnel kiln, made quality control a mainstay. For example, even though Asia Brick Factory at Jalan Lam San occupied only 10.3 hectares of land, it was able to produce around 37 million bricks annually in the late 1980s, when they employed a tunnel kiln.
What was the extent of Singapore's bricks industry?
The factories were located in the southern areas of Singapore (Bukit Merah and Alexandra, for instance) and in large areas in the west. There was one in the Upper Serangoon area and earlier ones adjacent to the Rochore and Kallang Rivers. Most bricks were produced for use in Singapore, but companies have been known to supply bricks to Malaysia and elsewhere.
Where is Singapore's brick industry today?
There are no more brick factories in Singapore today, as bricks are now all imported from overseas. Their characteristic tall chimneys and sprawling drying yards can no longer be seen. There are still kilns, but these are used more for firing ceramics, like Thow Kwang in Jurong.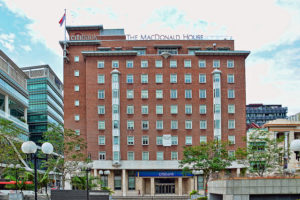 What are some buildings still standing today that used these Made-in-Singapore bricks?
The many HDB flats all over the island would have them — these are the ones built before pre-cast panels and components were used in the 1990s. MacDonald House, the old Central Fire Station, old shophouses and even the National University of Singapore campus uses a lot of bricks as a primary construction material. You can see an exposed brick archway at The Arts House, which was completed in 1826 using probably imported bricks. A lot of bricks are plastered up nowadays so you can only see the plaster work and not the bricks that were covered up. Many others have known to paint over facing bricks for their homes and other buildings.
How can we identify a Made-in-Singapore brick?
We can mainly tell by their factory names imprinted onto the brick recess. Some of these include: Alexandra, Jurong, Nanyang, Sin Chew, Malayan, Asia, Goh Bee, Kim Lan, and Tekong, etc.