National campaigns —  against littering and breeding mosquitoes or encouraging the speaking of  good english and to have more babies — are part and parcel of everyday life in Singapore. A new exhibition, "Campaign City: Life In Posters", celebrates this aspect of the country's heritage by inviting 50 individuals from its creative community to design posters based on their personal memories of various campaigns. The works are currently being exhibited at the Lee Kong Chian Reference Library, on Level 11 of the National Library Building, until 3 July together with a historical survey from the library's poster archives.
I was fortunate enough to have been invited to contribute a work for this event organised by The National Library of Singapore, in partnership with Salon Projects. Since I was a writer, I figured my best bet would to be create "word art":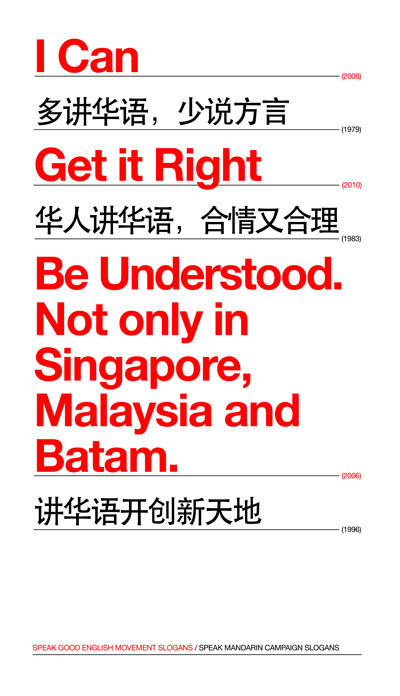 Here's what this "pledge", made up of a mish-mash of campaign slogans over the years, meant to me:
As a writer, language is how I define my world. Growing up as a student under Singapore's two language campaigns — first the Speak Mandarin Campaign, then the Speak Good English Movement — I always felt caught in-between.
The Chinese language was suppose to root me to my ethnic culture, but it was alien to my English-speaking family and my elders who spoke Cantonese, Teochew or Hainanese. When I discovered Singlish connected me with my family and friends in Singapore, I was told to speak English to plug in to the world outside.
Made to grow new roots and taught to cater to strangers outside of home, what have I become? A successful hybrid Singaporean or a failed translation of our bilingual policy?
As the campaign slogans over the years reveal, language for a Singaporean is so we can speak to everyone outside of this city, but never amongst, nor for, ourselves.