From its first foray into the Venice Architecture Biennale over a decade ago, Singapore has sought to project an image of a city-state defined by progressive architecture and urban planning. As part of efforts to develop itself into a creative city since the millennium, the city-state began participating in both the the art and architecture editions of the Venice Biennale, a world's fair for the avant-garde.
But while Singapore's participation in the art biennales have largely been driven the interest of individual artists (and handled by the National Arts Council), the architecture pavilions commissioned by the DesignSingapore Council, the national design agency, are closely tied with how the state sees the city. From the claim that the world's population can be housed in a thousand Singapores to the latest presentation on how the state is co-creating a city with its citizens, here is a lookback at Singapore's 5 architecture pavilions. (This piece was inspired by The Substation's on-going competition to dream up alternative visions for Singapore's participation in 2018.)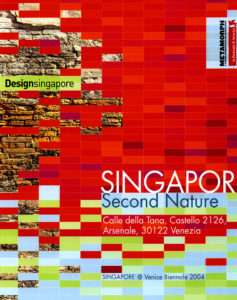 2004—Singapore: Second Nature
Commissioner: Dr. Milton Tan, DesignSingapore Council
Curator: Dr. Wong Yunn Chii, National University of Singapore
As part of a strategy to promote local designers overseas, the then newly set-up national design agency, DesignSingapore Council, makes a debut at the biennale with Singapore's first national pavilion. In response to the 9th biennale's theme of "Metamorph",  the pavilion "Second Nature" (originally titled Tropical Genteelity) explored the relationship between architecture and nature, and how it affects Singaporeans' lifestyles. Inside a mosaic room featuring the city's skyline was a collection of images of buildings and places of significance as well as four timeline panels archiving Singapore's history and cultural statistics In all, some 15 works from 13 local architectural firms and the National Parks Board were featured to. Lead curator Dr. Wong explained, "Second Nature highlights the city-state's creative ways of responding to and transforming Nature in its urban landscape. The selection illustrates the emergent conditions and the response of Singapore's architects that is unique and exciting. It is a phenomenon that extends to a wider discourse of design."
2006—Singapore Built & Unbuilt
Commissioner: Dr. Milton Tan, DesignSingapore Council
Advisor: Toyo Ito
Design: ECO.ID (Space Consultant) / H55 (Graphic) / Dear Design Studio (Installation Artist) / Designation (Space Designer)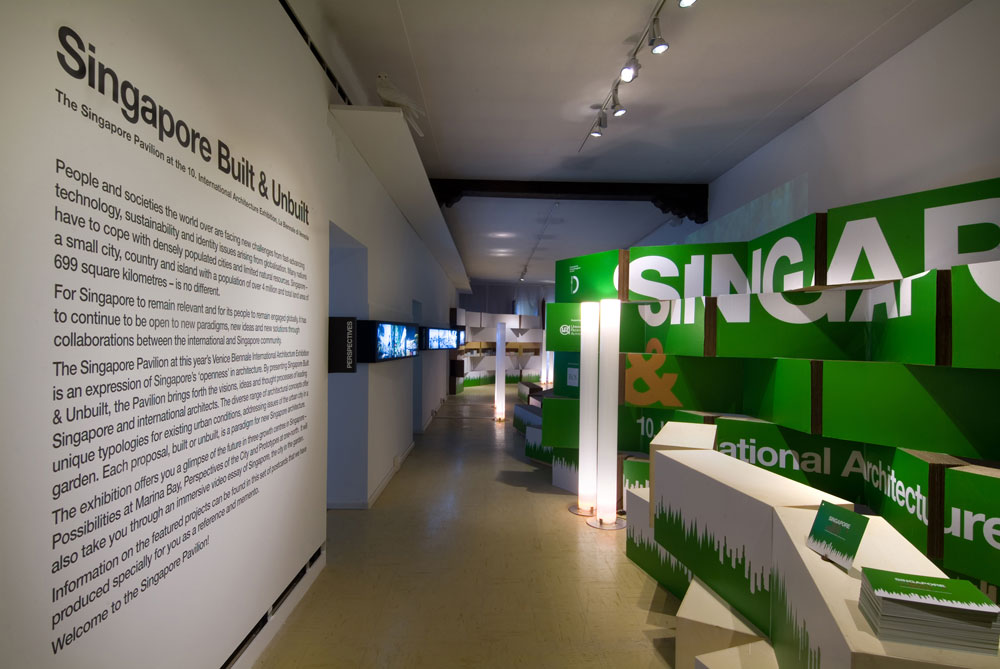 Controversy overshadowed Singapore's second showing at Venice. Just two months before the pavilion was unveiled, the original curators—Dr. Erwin Viray, Randy Chan (DesignAct), Christopher Lee (Asylum), Tay I-Lin and Budi Wijaya (PlasticSoldierFactory)—quit after a last-minute rejection of their proposal, Singapore Shopping. According to a press release, the "Singapore Shopping" pavilion promised to be a "flagship store" and "metaphor" that celebrated shopping and how it transformed the city and its people. It was the winning entry selected from 18 proposals.
Dr. Viray told The Straits Times that their entry was approved as Singapore's response to the theme of "Cities, people, society and architecture" until they presented it to Dr. Tan Chin Nam, then permanent secretary of the former Ministry of Information, Communication and the Arts, which oversaw the national design agency. He felt the idea of shopping misrepresented Singapore and the team was asked to come up with alternatives. They chose to resign instead.
DesignSingapore director, Dr. Milton Tan, said this a surprising and disappointing turn or events. Eventually, Ito, who was also an international advisor to DesignSingapore, worked with a new team to put together a showcase of  built and unbuilt proposals of architecture in Singapore. These included the winning proposal for Marina Bay Sands, as well as the finalists for several design competitions, including the School of the Arts and the public housing for Duxton Plain.
2008—Singapore Supergarden
Commissioner: Dr. Milton Tan, DesignSingapore Council
Co-commissioner: Richard Hassell
Curator: FARMWORK, DesignAct, and ReallyArchitecture [re:act]
Design: FARMWORK (Pavilion) / MAKE (Graphic) / Eeshaun (Illustration)
In response to the biennale theme of "Out There: Architecture Beyond Building," this edition did not showcase buildings but presented Singapore's emerging design culture instead. The works of 22 of the country's new generation of creatives—including Ministry of Design, Donna Ong, Outofstock, Lekker Design, &Larry, amongst others—were placed on a lawn to show the creative network that made up a Singapore Supergarden. The pavilion was developed by three young architectural groups which were selected following an open call for nominations. Co-chairman of the commissioning panel, Mr Richard Hassell, said this next generation of Singapore creatives who were fluid in identity, highly networked, global in outlook and the first to exist in a design eco-system supported by the state.
2010—1000 Singapores: A Model of the Compact City
Commissioner: Jeffrey Ho, DesignSingapore Council
Co-commissioner: Ashvinkumar, President of the Singapore Institute of Architects
Curators: Khoo Peng Beng (ARC Studio), Belinda Huang (ARC Studio), Assistant Professor Erik G. L'Heureux and Assistant Prof Florian Schaetz
Designers: ARC Studio, Assistant Professor Erik G. L'Heureux and Assistant Prof Florian Schaetz (Pavilion) | H55 (Graphic) | Plate Interactive (Website)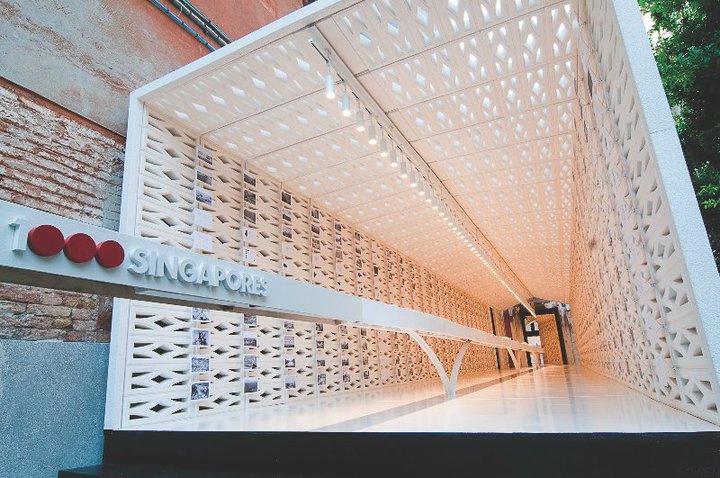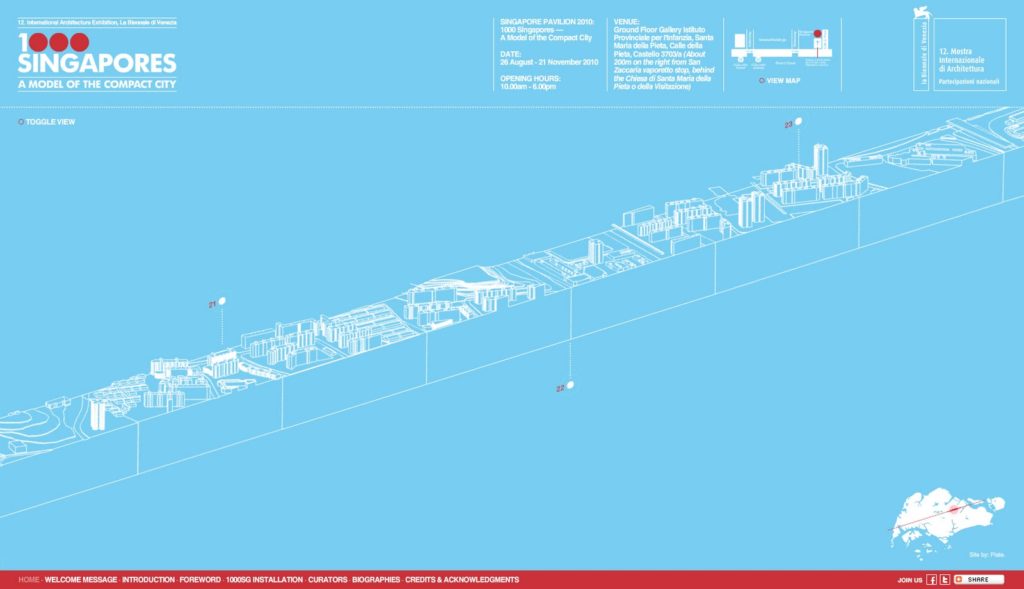 Arguably Singapore's most provocative pavilion to date, this national pavilion put forth the idea that 1000 Singapores could house the entire world population using only 0.5 per cent of the Earth's land area. Using a 35-metres tube as a scale model to represent a slice of Singapore, the pavilion highlighted the city's compact nature in response to the biennale's theme of "People meet in Architecture." The pavilion won a Design of the Year at the 2011 President's Design Award and was re-staged in Paris and later Singapore as 1000 Singapores: Eight Points of the Compact City.
2012 and 2014—No national pavilions
Singapore sat out the 2012 edition to shift its focus events to more trade-focused and product centric events such as the Maison et Objet in Paris and International Contemporary Furniture Fair in New York. There was notably no public outcry from the local architecture community unlike the Singapore arts community who publicly petitioned against the government's decision to pull out of the Venice Art Biennale in 2013. The petition saw the country return to the art biennale in the next edition.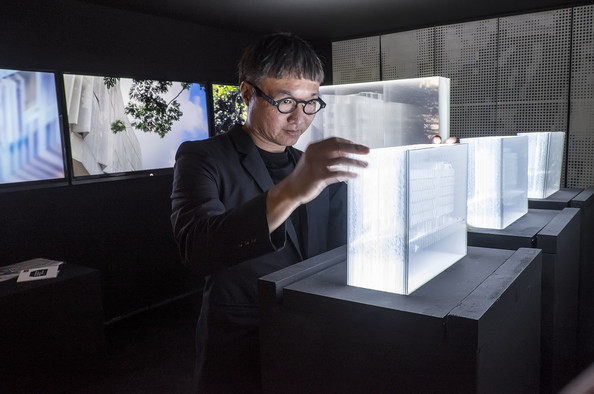 While Singapore continued to sit out the architecture biennale in 2014, two Singaporeans stepped up to fly the national flag. Local architect Edmund Ng (Suying Metropolitan Studio) and interior designer Peter Tay both showed works at the Time Space Existence exhibition organised by Dutch non-profit group Global Art Affairs Foundation.
2016—Space to Imagine, Room for Everyone
Commissioner: Jeffrey Ho, DesignSingapore Council
Co-commissioner: Tai Lee Siang
Curator: Dr. Wong Yunn Chii, National University of Singapore
Co-curators: Tomohisa Miyauchi, Teo Yee Chin
Design: Teo Yee Chin (Exhibition) | Do Not Design (Branding)
Singapore returned to the biennale with a feel good exhibition that showcased the state's public housing and community-building efforts in response to the theme of "Reporting From the Front". The highlight was a installation of 81 glass lanterns that each contained images showcasing the interiors of public housing. Alongside it were other examples of groups working with the state to design the city, all examples of "participatory design, which is softening Singapore's hardened edges," explained curator Dr. Wong. After the show ended in November, it was showcased the following year in Singapore's National Design Centre.