Integrated developments that combine retail, residential and transport such as the recently opened Bedok Mall and the upcoming Northpoint City in Yishun may now be presented as a solution for a denser Singapore, but it is an idea that is almost five decades old.
Back when the newly independent Singapore was drawing out plans for its future city, a group of architects and planners—William Lim, Tay Kheng Soon, Koh Seow Chuan, Chew Weng Kong, Chan Sau Yan, amongst others—formed the Singapore Planning and Urban Research Group (S.P.U.R) in 1965 to study and develop proposals for the nation's city development. Anticipating a future where the world would only become more densely populated, the group imagined a "true city" to be a "congested city", one where people would live in higher concentration and on land that was intensively used for multiple functions.
This was a vision S.P.U.R sketched out (above) for Asia Magazine in May 1966—and some of its members eventually built it out in the forms of Golden Mile Complex and People's Park Complex. Completed in the 1970s, these buildings that combined offices, residences and shops stood apart for decades in a city that became carved out for single land uses, or what the group warned in their article as "out-dated planning principles that seeks to segregate man's activities into arbitrary zones, no matter how attractive it may look in ordered squares on a land use map." But as Singapore's population has almost tripled from 1.9 million in 1966 to 5.5 million today, the state has shifted its urban planning approach, which echoes S.P.U.R's proposals for the future Asian city. The Golden Mile and People's Park complexes are no longer eccentric anomalies of the city but architecture templates for Singapore's future.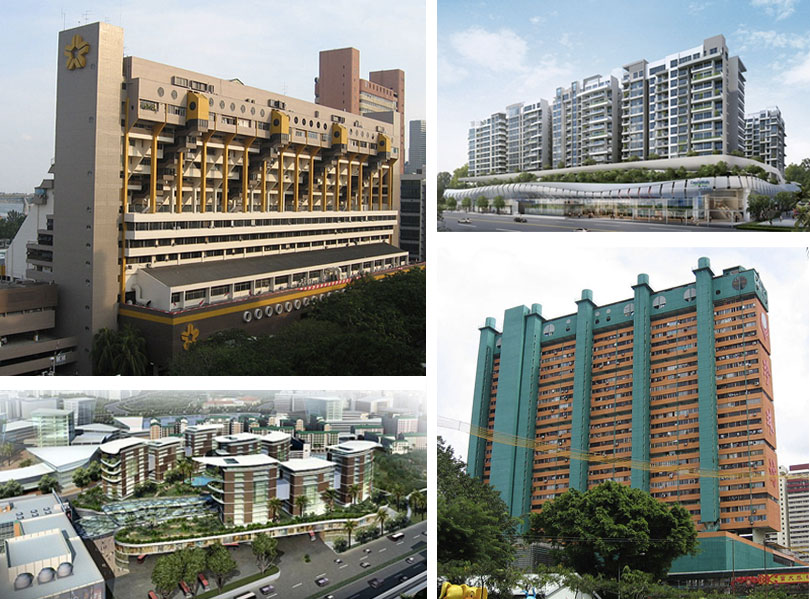 Not all ideas by this non-governmental organization were rejected by the state at first. During the 1970s debate over expanding Paya Lebar airport or moving it to Changi, S.P.U.R made a public case for the latter—and they were vindicated. With the on-going expansion to build a fourth airport terminal, Singapore must be glad to have made the move. This was also to be one of the group's last contributions to the nation's urban planning discourse as it de-registered in 1975. Its members, however, carried on their activism in different forms, continuing to publish books and proposals about the city's future.
Many of S.P.U.R's proposals and activities were documented and published in two journals the group released. The pages may be in black and white, but they vividly show how Singapore became, or is only now becoming. Alas, their contribution has received much spotlight until now. NUS Museum is hosting a 50th anniversary reunion for the group next week, and it will be a fantastic opportunity to revisit a declaration they made in their inaugural publication: "We are at a cross-road between the old and the new Singapore and the planning and environmental decisions which we make today must be with vision and foresight, as future generation will judge as we judge our predecessors."