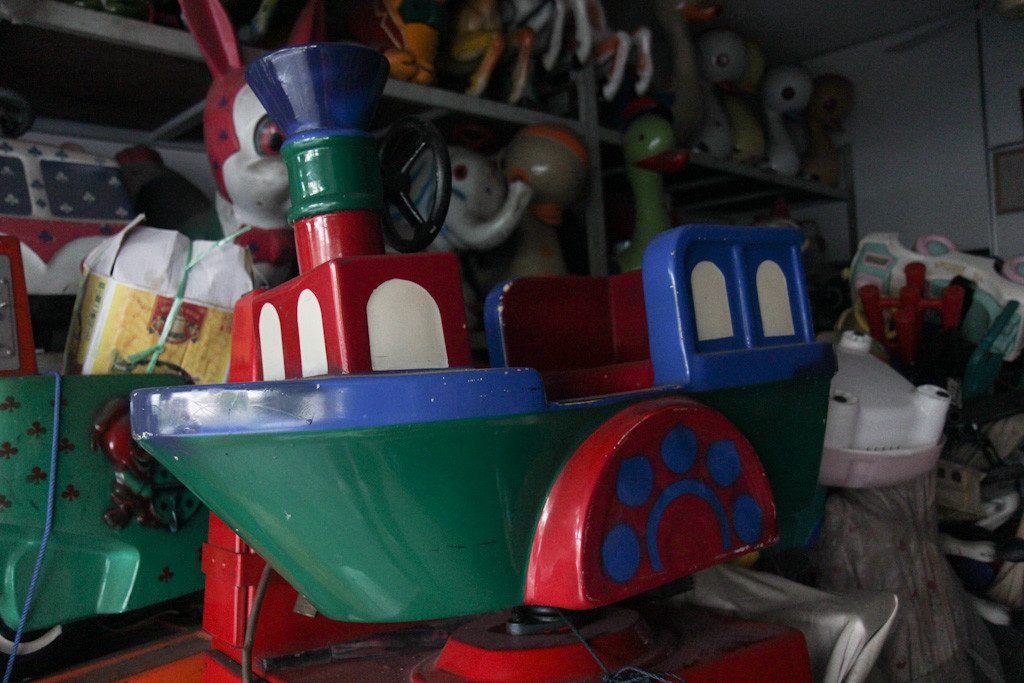 Once a common sight outside stores in Singapore, kiddy rides have lost their space in the city
They come in all shapes and designs, but whether it is a swan, a horse, an elephant, a car, a boat, a scooter, or a spaceship, these machines offer children a ride of their lives. For a few minutes and a small fee, a child would be taken on a journey full of ups and downs (or lefts and rights) and cheerful music music as they made their way to… nowhere. This was the promise of a kiddy ride, a toy that brought joy to children, and relief for parents, as they went about the city.
For over three decades, Woo Hock Trading Co. has been supplying such kiddy rides to businesses in Singapore and the region. Mr Lee Kim Leng, started the business in 1980 after taking over six machines from a previous owner. Starting from a space outside a shop in Toa Payoh, he built up a fleet of over one thousand kiddy rides all across Singapore. Mr Lee's daughter, Catherine, began helping her father when she turned 20, and over the last two decades, has witnessed the family business ride through the good times and the bad.
"During the golden age, each machine could make a 4-digit sum a month. Now one whole year, maybe I'll only get fifty dollars," says Catherine, who is certain the business will end with her.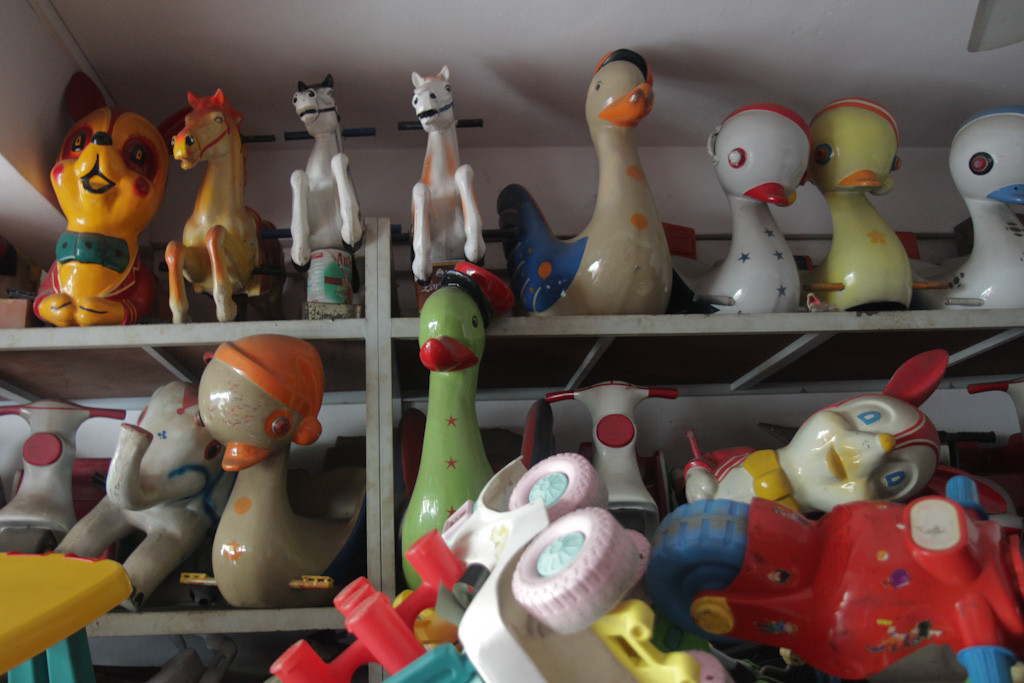 According to Catherine, the first half of the '90s was the heydays for kiddy rides. Before the 1997 Asian financial crisis, Woo Hock's rides were commonly seen outside neighbourhood stores and supermarkets such as NTUC FairPrice, Sheng Siong, and Oriental Emporium. Many also found their way to Indonesia, Hong Kong and even Mauritius. Businesses either bought these rides for a few thousand dollars or let Woo Hock place one outside their storefronts and shared the profits.
As the industry was very competitive then, Woo Hock started designing its own rides to stand out from those usually imported from Britain, Germany, Taiwan and Japan. One signature Woo Hock design is the duckling, which still appears on the company's name card and its fading shop signage. However, this design was later copied by competitors who bought the mould from the manufacturer without their permission. Other rides designed by Woo Hock include models resembling a Vespa scooter and a boat, both which have been very popular with children.
Besides appealing to children, the rides also have to be designed to be safe. Woo Hock only supplies rides made of fibreglass, which last longer and are safer than those made of PVC. Catherine is proud to say that no accidents have happened on Woo Hock's rides after all these years. Their designs have failed in other ways, however. Inside its shop, where the rides are serviced and stored, sits several rejected models. There is a race car so shallow a child may fall off, and there is a rabbit whose height is such that a child might hit its head on it during a ride. As we pass by another animal-shaped ride, Catherine asks if I could guess what it was.
"A Cow? A Pig?"
"Aiyoh, you cannot tell?" she said as she giggled embarrassingly. "It's a Merlion! Don't look like meh?"
This is one of Woo Hock's design that failed. After investing S$30,000 to create the mould for manufacturing this ride, they found that nobody dared to ride it, especially the Muslim children, who thought it resembled a pig, an animal considered taboo in their religion.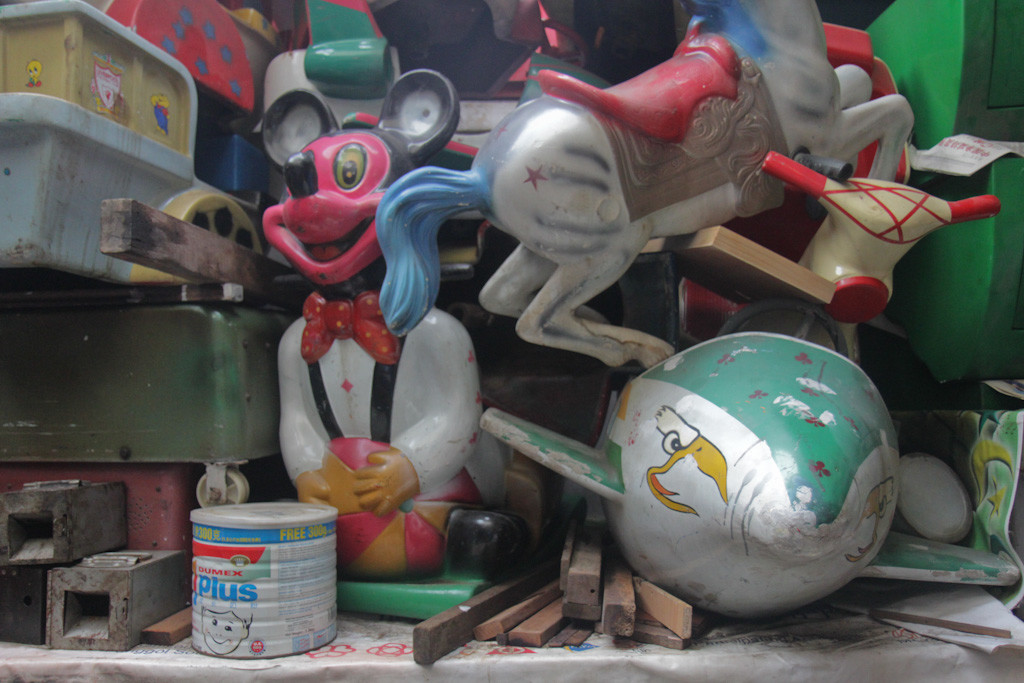 While Woo Hock kept on designing new rides to appeal to children, it did not stop its business from declining post-1997. Children had more alternatives for play, and clients also preferred rides featuring global cartoon stars like Mickey Mouse instead of Woo Hock's designs. But what really killed the business was after an incident in 2007 when two siblings were killed in a fire at their public housing home in Hougang, says Catherine. When the brother and sister tried to escape, they were trapped by the stockpiles the businesses downstairs had left outside their shopfront overnight. The tragic incident led the authorities to clamp down on shopfront clutter, and as businesses found less space, kiddy rides no longer had a place in the neighbourhood.
Today, Woo Hock's shop along Lichfield Road is a forgotten abode for its remaining kiddy rides. Once bustling with 6 workers and three vans, the shop floor has become the extended home of Mr Lee and his family who live upstairs this shophouse. A single van is now parked outside. While they used to work from morning to night with no holidays and off days, they struggle to find something to do now. Recently, Catherine even had to throw out some 300 pieces because there was not enough space for these rides, which used to call the city outside their home.
———————————
A feature written for FIVEFOOTWAY magazine's issue on PLAY