Keeping up with the times – the changing look of Singapore's longest surviving English newspaper The Straits Times.
— — — — — — — — — — — — — — — — — — — — — — — —
Introduction } 1960s } 1970s } 1980s } 1989 } 1998 } 2000s
— — — — — — — — — — — — — — — — — — — — — — — —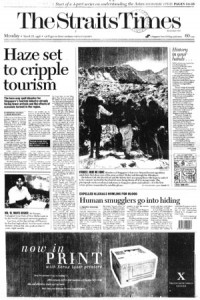 The news magazine
For the next eight years, the paper remained unchanged until its biggest redesign in March 1998. To announce this "major milestone," [i] ST ran behind-the-scenes stories daily in the week running up to the launch.
This extensive revamp was performed by a team led by former art director of The New York Times and Newsweek Roger Black, his associate Eduardo Danilo Ruiz and ST's Foreign Editor Felix Soh.[ii] The hiring of an American consultant echoed the international view that American newspaper design was now the standard to follow.
ST's new look borrowed heavily from magazine aesthetics. As a reader remarked, the paper became "less formal and feels more like a magazine style."[iii] This approach was to project a "more youthful Straits Times" to attract younger readers who were not reading newspapers.[iv]
To aid reading, stories began with a summary deck featuring a short write-up about the story. New design elements such as quotes and infoboxes broke up the story into interesting bits to appeal to the reader's attention. The paper also switched to contemporary typefaces: news headlines were in Miller Daily,[v] while the sports section had a separate headline typeface in sans serif, Interstate.
The paper was now in full-colour,[vi] and a greater emphasis was placed on visual journalism. Infographics and photo essays became an alternative to text stories. The different sections, including Classifieds, now came with "covers" made up of a main story and accompanied by promos – "advertisements" with etched out photographs and snappy introductions – of the stories inside.
Underlying all these changes was the need to stay relevant to advertisers. The emphasis on youth assured advertisers that "newspapers are very much alive and well" [vii] and going big on colour was to "create a better environment for advertising"[viii] in the paper too.
The overhauled paper entered the millennium facing an even more competitive media landscape: in 1999, Channel NewsAsia, a television-news channel was launched in Singapore, broadband access also became commercially available allowing Singaporeans to get their news online, and in 2000, the media market was liberalised to allow more players.
— — — —
— — — —