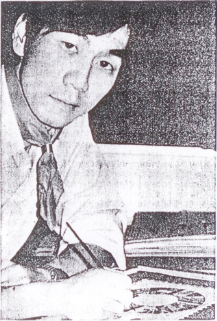 Two years back, I wrote about Mr William Lee (李秀镌), a graphic designer who has created corporate identities and logos for many Singapore companies and organisations. Since then, I've chanced upon more material that gives a fuller picture of his contributions to Singapore's design scene.
Before William set up Central Design, an independent advertising and design agency in Singapore,  in 1969, he is said to have attended a Chinese-language school here before heading to Australia to be an architect. However, he dropped out of it to study graphic design, spending 12 years learning the profession via work-cum-study in Australia, Amsterdam and London. He began by obtaining a Certificate of Art in Australia before heading to Holland where he got a Diploma of Advertising and Typographical Design. William then left for London to study in St Martin's College of Art, eventually receiving a National Diploma in Design. For the next seven years, he worked in a leading advertising agency in London as an art director before finally returning to Singapore to set up shop.
He seems to have started out by designing stamps for Singapore. Soon after setting up Central Design, he was invited to submit stamp designs for a commemorative issue on 'Shipping Development'. This series of three stamps issued in 1970 were his first of many designs.

In an interview with the magazine Stamp Monthly, he said his motivation to design stamp  came from a meeting with a philatelist in London who commented that Singapore stamps lacked colour and attractive designs. The shipping stamps he did led to his first big break: a commission to design an issue of stamps for the Commonwealth Heads of Government Meeting held in Singapore in 1971. This was perhaps one of the most significant events held in the young Republic, which had barely turned six years old. Such high-profile work brought him much attention both internationally and locally, and it became an accolade that would be brought up again and again in his career. In an interview, he said, "This series gave me personal satisfaction as it brought Singapore stamp designs to international standards."


1971 Commonwealth Heads of Government Meeting from CS Philatelic Agency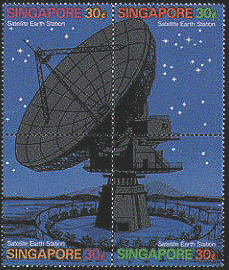 But from a creative standpoint, another stamp design he did that year was much more worthy of attention. For the opening of Singapore's first Earth Satellite Station, he used a full illustration of it over four stamps of different values—something never done before in stamps issued in Singapore.
With the memory of the Commonwealth stamps barely faded, the soon to be launched Singapore Airlines (SIA) came knocking on his doors in July 1972 with a job to flesh out their corporate identity designed by Walter Landor of San Francisco. William became the first local designer to handle creative work for the national carrier, SIA, and in over two months, his  agency of 30 workers churned out over 600 items including brochures, tickets, baggage tags, office signs, passes, letterheads, etc.
Having worked on arguably the two biggest design jobs available in the '70s within just three years of setting up, William became known as the Singapore graphic designer. He was regularly in the news on design-related matters, and even his sojourns to to Europe to study "the latest advertising techniques" were reported in the press. His clients over the years have reported to be multi-national companies from England, Japan and America. These include Akai Sound Systems, a Japanese electronics firm, as well as Mark Holdings, a wholly Japanese-owned trading company that brought in Swiss watches including Longines, Eterna, Ulysee Nardin and Rotary.  In 1974, Longines of Switzerland even presented him a special award for outstanding creative work on their account!
As the Singapore economy boomed though the '70s, William built up a body of logos for a variety of local and international businesses as well as government organisations. These include the Post Office Savings Bank (1972),  Shangri-La (1975), Singapore Bus Service (1978) and United Overseas Land (UOL) (1979).
As his business grew, William did less and less stamp designs, eventually stopping completely around 1980 after designing 16 series of commemorative stamps. However,  he made a comeback for the 25th anniversary of the NTUC in 1986 because he loved the challenge of designing stamps.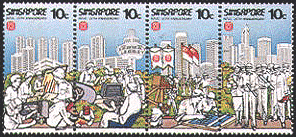 To honour his design services for the state and community, William was decorated with the Public Service Star by the late President Sheares in 1975, and the Friend of Labour medal by the National Trades Union Congress (NTUC) in 1982.
Given the period of his design education in the '50s and '60s, it seems William was a designer trained in the modernist way of thinking. When asked what defined a good logo, he said it had to be simple, yet striking as it is international. He was also known to advocate the use of white space. In the early 1970s, he observed that local designers often copied designs they saw in magazines and newspapers, and his advice to them was, "They must learn to be original."
Not much is heard of William or Central Design after the mid-1980s, which by then would have been close to two decades old. Perhaps his agency was affected by the 1985 recession?
William is believed to be alive and well today, but has not made himself contactable. He once said, "I like to be alone but I'm never lonely. I have so many other interests like fishing, music and antiques, to keep me busy."