Look 喜喜 by Ang Tze Qi and 玩: Traditional Chinese Games by Cheong Jia Qi
Old is gold, or so it seems, for this year's visual communication graduates of the School of Arts, Design and Media (ADM) in the Nanyang Technological University. Most of their final-year projects on display at the ADM Grad Show 2010 were the re-packing of old traditions and cultures in new visual forms. Some of the subjects "re-designed" included Hakka culture, traditional Chinese games, Chinese wedding customs, Kimonos, the Chinese peony and Feng Shui.
Hakka Culture by Alvin Leu and Creation and Metamorphosis of Chinese Hanzi by Low Weining Kasxier
This popular choice amongst our young local designers of mining heritage for design seems to reflect a certain disconnect between our youth and the old in Singapore. The traditions and customs of yesteryear are seen as strange and inaccessible to today's youth, and the response of these curious young designers is to redesign them. This is also a strategy employed by museums here, notably the National Museum of Singapore. Since its re-opening in 2006, the museum has employed graphic design to package history in edgy visuals to attract the younger generation. Some of that energy and approach must have rubbed off  this batch of graduates.
Interestingly, many of the works also centered around Chinese culture. The use of 'trendy' designs and English as the language of choice suggest that these projects are created for an English-speaking audience. Again, we see design being used to bridge another Singapore disconnect — that of the English-speaking graduate class and their curiosity with their ethnic culture. Here, we can also see 'who' graphic designers are in Singapore — mostly Chinese.
五行 by Lam Si Yun and 朋: What Makes a Friend by Wang Shi Hui
While, the youth may take a liking to how heritage has been repackaged for them in these forms, it'll be interesting to see this collection of projects put to the older generation as well. Will they be able to comprehend these 'edgy' designs? And will they think that such repackaging has "consumerise" their cultures — a sell-out, perhaps?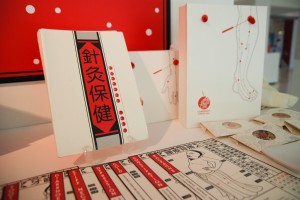 Longevity by Low Lay Hiang