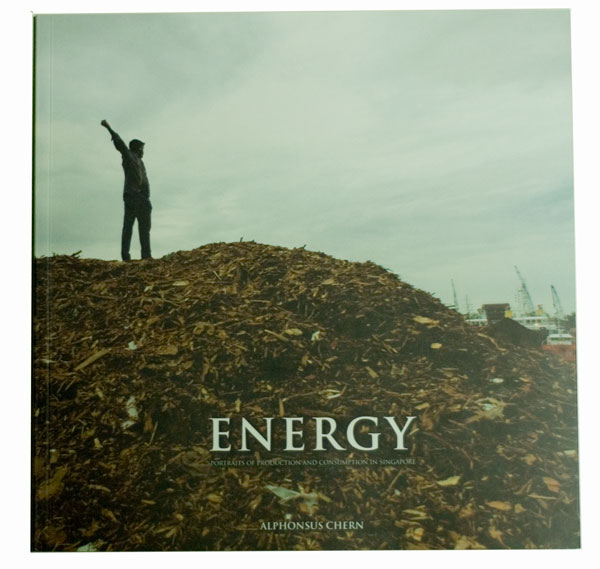 With a flick of a switch, your room is light up, your computer starts up and your fan turns on, but have you ever wondered how that happens?
Energy: Portraits of Production and Consumption in Singapore attempts to put a face to what creates something that so many of us take for granted — energy. Out of sight of most Singaporeans, the production of energy through fossil fuels, waste incinerators, natural fuel and alternative sources is documented by photojournalist, Alphonsus Chern, in his first-ever photo exhibition at the National Library. The exhibition runs till the 15 June at Level 7.
While the photo stories may seem disparate at first sight, what is noteworthy is the translation of an abstract concept like energy to images that portray its industrial glory that hopefully creates a dialogue about how this country produces energy and its heavy reliance on fossil fuels.
Pages from the book Energy: Portraits of Production and Consumption in Singapore
Alphonsus is also selling a limited first-run of his photos in a similar-titled book (above) for $50 at the exhibition itself.
A different point of view
To further challenge your perspective of things, check out Matthew Ngui: Points of View where you are stretched mentally and physically to make sense of things by looking at them from, literally, a different point of view. This exhibition, at the National Museum of Singapore, is a curated collection of art work by local artist Matthew Ngui and is on till 29 June 2008.
Both these exhibitions challenge our perspectives of things. Matthew Ngui's works put forth the importance of limitations to creating perspective. By forcing viewers into certain point of views, one realises how what may seem senseless at one point can be understood from a different point of view. It reminded me about the importance of limitations to the generation of knowledge as highlighted by linguist and political activist Noam Chomsky who went on to say, "…if anything could be possible, nothing would be possible."