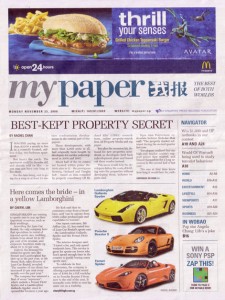 When my paper started in June 2006, it was an all-Chinese daily. A year later, it revamped as a bilingual freesheet divided into an English section and Chinese section. On Monday, the paper was revamped again, and taglined as "The Best of Both Worlds" and no long "my life, my thoughts, my say".The evolution of this three-year old paper seems to mirror the failure of the bilingual policy that MM Lee confessed to last week.
Before this revamp, the paper was equally divided between the two languages, with each fronting a cover. The English section opened from right to left and the Chinese section began from the back page, which interestingly followed how Chinese books are traditionally read, from left to right. In this new design, the Chinese section is now a separate insert while a new Business section takes over the back page.
This seems to reflect the reality of the Singapore readership. An English reader is unlikely to touch the Chinese section and vice versa, so why not make one paper more useful to two different set of readers instead?
To better appeal to English readers, my paper has also added a Business section. As English is the language of commerce here, this section is not available in Chinese. This addition helps it better fight Today, its competitor in the free-sheet business. Till now, the latter had the advantage of providing commercial news. The new design also promises to be more advertiser-friendly (like Today?). But, do we really need another newspaper covering business too?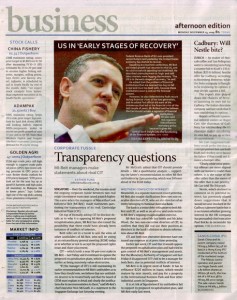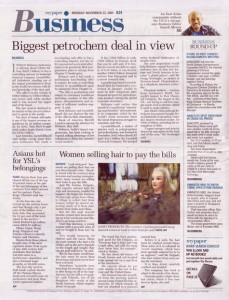 Commercially it might make sense, but I'm not sure if it provides diversity or even distinguishes it from the market.
The only distinguishing fact of my paper now is its billingual content. Isn't that why it now calls itself "The Best Of Both Worlds"?  Not, if you read its revamp advertisements closely. The paper is really trying to bring together "More Business news accentuated with Lifestyle features".
In fact, how billingual is this paper? It really is two papers in different languages put together. For select stories, there is a Helpdesk, a section attached to provide the translation of words in both languages but do readers really use it? The paper may claim to have had an increased in readership, but it doesn't say if it's because of the paper's bilingual content. Plus, the latest design of the paper — moving the Chinese section to be an insert — further reinforces this idea of two separate papers.
Observing how Chinese has been gradually moved from the paper's mainstay to become a novelty factor is an indictment of how billingualism has failed here. And, if it's true that my paper went bilingual upon MM Lee's suggestion, then it is just a manifestation of the failure of this policy.