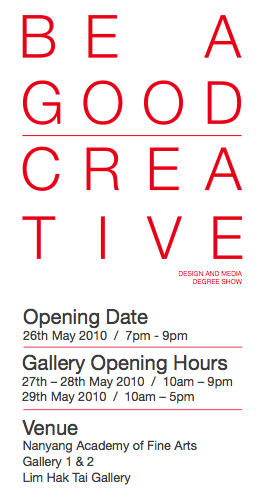 Every year, Nanyang Academy of Fine Arts stages a Design and Media Degree Show to showcase creative and energetic works created by graduates from the BA (Hons) Graphic Communication and Multimedia courses.
The theme for this year is Be a Good Creative – We may not be perfect, but we will absolutely not let you down. We believe it is what you give to the people, and the world; and we are just trying to be as good as we can be. Derived from Don't try to be original. Just try to be good, by Paul Rand quoting Ludwig Mies van der Rohe, our graduating batch of design and media creatives aim to serve our society with humility and honesty.
—
It's the first time I've been approached to plug someone's show. I agreed to because I think it's great that students are putting themselves out there and it sounds like a great theme. I've been told that the show will be opened on the 26th by :phunk studio's Jackson Tan. And on the evening of 28th May, Friday, Joseph Foo from 3nity Design will be speaking on the theme itself.