Just over a decade ago, Singapore unveiled the Creative Industries Development Strategy to build its creative economy. Today, this cluster consisting of the arts and culture, media and design has  grown and given the city a creative vibe. But while the  talents and their works draw the most attention, an important component are platforms that help to nurture these individuals and groups, raise their profile and support the design ecosystem. These range from the media, community-building initiatives, creation and collaboration programmes as well as institutions and shops. Over the next week, I will attempt to map out the platforms that underpin Singapore's thriving design scene, starting today with the media.
———–
From blogs, websites, magazines to publications, the Singapore design media has grown substantially from a decade ago. Today, design is featured regularly in mainstream newspapers as well as lifestyle magazines, and there are many local publications dedicated to it. In the early 2000s, the advent of iSh (1999),  d+a (2000), CUBES (2001) and a smattering of other initiatives breathed new life into a scene where design magazines meant interior design and fashion rags or the academically-driven Singapore Architect.
Since then, the local design media scene has grown tremendously with websites like DesignTaxi (2003), THEARTISTANDHISMODEL (2005), Culturepush (2007) as well as indie print magazines kult (2009) and Bracket (2010). They are also joined by the Asian offices of international design magazines such as Surface Asia (2010) and Dwell Asia (2011) that a licensed by MPG Media Publishing, as well as Australian design media brand INDESIGNLIVE who acquired CUBES when it expanded into Asia in 2011.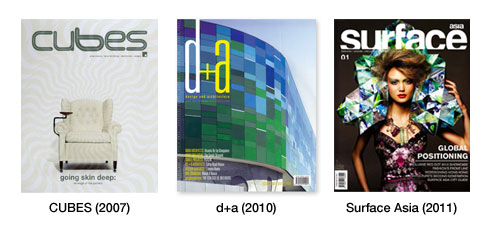 Besides a growing mass media, the design book publishing scene has also grown. While local design book publishers such as PageOne and Basheer Graphic Books might have published the occasional monograph for a Singapore design studio — such as :phunk studio's Universality (2007) — they were more keen on earning from reprints of  popular titles from the West. That has changed in recent years as overseas publishers have started looking more closely at the design scene here. Singapore-based Patrick Bingham-Hall has done several monographs for Singapore architects such as WOHA under his Pesaro Publishing, ORO Editions put out Lekker Design's Horror in Architecture, and international creative books publisher Laurence King recently published a book on the the works of the Design Incubation Centre in the National University of Singapore. Design studios themselves are also trying out self-publishing including DP Architects (The Dubai Mall: Sand to Spectacle), Ong & Ong (Conserving Domesticity) and Hjgher (Creative Cultures).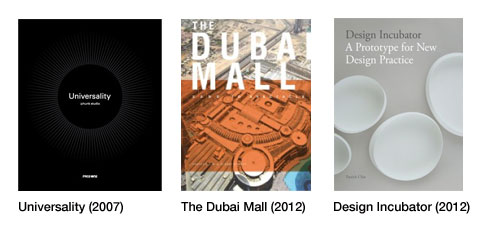 Beyond the written word, an emerging medium is film. Local design studio Anonymous was the first in Asia to put together A Design Film Festival in 2010, creating a platform to screen design films from around the world. While the festival has yet to screen a Singapore design film, it has started work on one. There are also similar efforts such as an on-going interview series with local creatives by Design Says Hello as well as government-sponsored documentaries on Singapore's design scene including City Lights (2006), More Than Meets The Eye (2004) and Design Superheroes (2011).
Despite more buzz and media, much of it has represented design as a lifestyle and consumer product and a business solutions provider. A lot of the media also looks at Singapore as just one part of the larger Asian scene, and while this raises the bar for assessing what is worthy of coverage, it also crowds out smaller but significant  developments for the local scene. Both these features are most probably because most of the media are commercially-driven and need to create a product that can appeal to a wide enough market. What is missing is critical coverage on design, including examining its role in popular culture and society. A lot of the media also lacks depth as they focus on what is trendy and the now, but Singapore design has a history that is finally surfacing the increasing number of monographs as well as historical overviews being published, such as Singapore Institute of Architect's new Rumah — 50 Years of SIA 1963-2013 and my own work on the graphic design community.