At just over 700 square kilometres, the small size of Singapore has been one of its biggest challenges. Land is so scarce a commodity that every inch of it must come under the ideological makeover of the city-state's urban planners, so much so that architect Rem Koolhaas once described it as such in his book S, M, L, XL:
"It is pure intention: If there is chaos, it is authored chaos; if it is ugly, it is designed ugliness; if it is absurd, it is willed absurdity."
This desire of our urban planners to fashion by sheer will a First World city after others like New York and London have led to the relentless pursuit of urban renewal and countless grandiose master plans. The Garden City, public housing, a hub for business, education and healthcare… it is easy to lull into the belief that we, the people, are nothing more but a population detail in this city's plans.
Yet, as minor as details are, it is the people who make up a city. And when we look at the individuals around us, as Michel de Certeau did in The Practice of Everyday Life, we start to see how this city is not simply a product of its planners. Just like how the state has turned to land reclamation to overcome the lack of space, its people have done the same, creating their own spaces in this over-determined red dot.
Surviving in the small spaces
With just a mirror on the back of a grey shophouse, a maroon leather chair from his old salon and a large green canvas sheet that shields both from the afternoon sun and the gaze of the modern skyscrapers towering over, Mr Lee Yoon Tong has set up his barber salon at this back alley on the fringes of the city's financial district for the last seven years.
No larger than two motorcycle parking lots, his salon is hidden amidst a neighbourhood of shophouses at Tanjong Pagar occupied today by design agencies, investment firms and posh restaurants — businesses that can afford the high rent that had led Lee to be evicted from a similar shophouse around the corner.
But the move out to the streets was a blessing in disguise. Lee's earnings have dropped, but his costs have fallen even more — no utilities, no taxes and most importantly, no rent. Ironically, while the subsequent tenants of his former shophouse have changed hands several times since he left, Lee's salon has survived.
This is in spite the public's view that street hawkers like Lee are unsightly and an obstruction for a modern city, and are too small to survive in an economy dominated by global corporations. Thus, while street hawking was a way of life in the past, they have become a rare sight today due to strict regulation on where, when and what they can sell.
Yet, it is precisely by being small that they have continued as a means for people with little capital to make a living, especially in these tough economic times. To a street hawker, walkways, shop fronts, back alleys – spaces too insignificant for landowners to rent out – is all they need for their table of wares, be it a cobbler, newspaper vendor or ice-cream seller.
Thus, street hawking is a great way to nurture entrepreneurship, "It is not because people don't have ideas," says urban studies professor Ho Kon Chong "but because the cost of land is too expensive, the rent does not allow for failure."
However, Lee's insistence on staying near his old salon is not just a matter of economics. "I wanted to serve my old customers, they still look for me." the 70-year-old said in Mandarin. In this city that often limits the diversity of land use by thinking only of its economic returns, we forget that a shop space is also a container for memories.
Allowing people to grow a place
It was the persistent memories of their kampong near Sixth Avenue that led a group of old folks to this once-empty plot of land in Clementi. Bounded by the winding Malaysian railway track, a bustling expressway and shielded by the neat rows of HDB flats, Kampong Sungai Pandan is a fragmented collection of farm plots scattered with fruit trees like papayas and sugar canes, and a makeshift hut that is the central meeting point for the community.
But this is not a nostalgic reproduction of their lost kampong in a highly built Singapore, no one stays here, rather, an organic development of a community place for this group who were resettled to the surrounding flats in the 1980s. In a way, the community is fortunate that the land they have claimed sits in the middle of an on-going dispute between the Singapore government and the Malaysian railway. This has allowed them to ride on the ambivalence of either side, until they decided to make their presence more permanent.
Pooling together money, Mr Cai and rest of the community had built a comfortable gathering spot with carpet grass, potted plants, stone furniture and even a zinc-roof hut. It was not long after that the state came by and tore down the unauthorised structure over fears of mosquito breeding and suspicions of illegal activities like gambling. Today, the carpet grass has again given way to mimosa and weeds, and a canvas sheet shields them in place of the zinc roof as the community, uncertain of its place, have chosen to let the place stay dilapidated instead. It will be less painful when they are eventually chased out.
Such conditions are not only ideal for breeding mosquitoes and pests, often the authorities' biggest concern, but it aids the growth of apathy amongst residents. Denied from taking ownership over spaces such as common corridors and void decks, residents use but not care for them.
This lack of participation is a major problem in our residential dwellings says Professor Ooi Giok Ling, who has written about the management of such spaces in The Future Of Space. "We need to work out how we are going to manage as a group all this shared property, all this communal work. But because we never get the opportunity to, we just lift a phone and call (the authorities)."
The culture of dependency on the state to solve our problems is why our spaces are so dominated by their imagination rather than the people who use it. Thus, one can hardly tell the difference between living in Jurong or Pasir Ris because the same housing plans are repeated with little input from the residents.
And in an age where it is so easy to move from one city to another, what will differentiate this place from the rest? Only by allowing people to participate, to build their own environments, can they be rooted to this land. After all, how can one make a home in a place where homes are already planned for you?
This city is possible
As skater Lee De Ming aka King Ming says, "What you can find in the park, you can find in the streets, but what you can find in the streets, you can't find in a park." This is why Lee and his group of skaters still enjoy the thrill of taking on the city despite the skate parks built to house a sport seen as a nuisance to many.
Aided by the cover of the night, the twenty skaters leave their day "home" at the atrium of a block of ageing HDB flats at Margaret Drive in search of "liquid waves" in the city's architecture. Skateboarding is after all based on the Californian surfing culture of the 1950s that wanted to extend the sport to the urban environment by adding wheels to a surfboard.
It is almost midnight when they finally find the spot — "Four Stairs". In the skater's eyes, a flight of four steps, each 30 centimetres tall, at the deserted corner of Golden Landmark Hotel becomes their performance stage as the skater's cheers and jeers transforms the place into their home, a stadium of energy, if only for a while.
It is these skaters' sense of possibility with just a little imagination that could actually inspire a city that plans to house more than the existing 4.8 million already living here. Even Minister Mentor Lee Kuan Yew has his doubts. "I have not quite been sold on the idea that we should have 6.5 million," he said last year when he discussed Singapore's population projections by 2030.
Moreover, it is not just a lack of space, but also the right kind of space. And it becomes a massive problem for urban planners when one realises that people have a million uses of spaces, so how can any master plan meet all the diverse needs of its growing population? The street hawker, the elderly community and the skaters have shown how this city is possible for them when the state allows them to participate and decide how to use the space.
It is in their act of reclaiming space that we transcend the limitations of a small city so tightly regulated by the state, and re-imagine a new geography of Singapore, one of our own, one that gives birth to the question: Whose city is it anyway?
— — —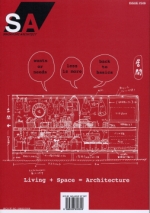 This article was first published in Singapore Architect #249 and is part of my final-year project, Reclaim Land: The fight for space in Singapore.