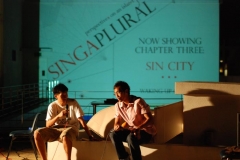 What does Singapore mean to us?
Through a series of seven film screenings at the rooftop of the Wee Kim Wee School Of Communication and Information held in 2007, my friends and I challenged viewers to think about this island by looking at it from different perspectives provided by the films.
All the films screened were past final-year projects by former students and we also managed to invite some of the directors back for a question-and-answer session. You can hear some of the interviews here.
As part of the screenings, the following films were shown:
Singaporean?
We explore what it means to be Singaporean 
Radio Station Forgot to Play My Favourite Song (2003)
In a Spo[r]t (2007)
Sin City 
We ask if Singapore is really such a "clean" city 
Waking Up  (2005)
The Last Flight of the Red Butterflies (2003)
Singapore's Others 
We seek out the "unwelcome" people in Singapore 
Spaces (2004)
Going Glocal (2007) (24mins)
Singapore Culture? 
We examine the culture product of our Singaporean way of life 
Singapore Standard Time (2006)
Love in the Making (2005)
Love the Singapore way 
Romance in Singapore 
九月 (aka September) (2006)
Clean (2006)
Haunting Singapore 
Spooking ourselves out Singapore style 
Grey (2004)
Suicide Symphony (2007)
Singapore 201X 
Projecting the future of Singapore 
Merry Morticians! (2006)
Inspector X and the Eternal City (2006)