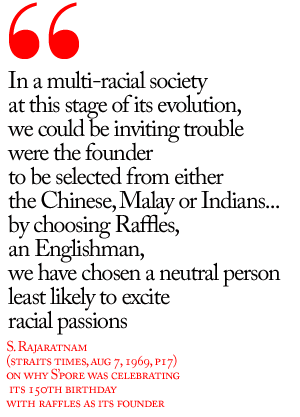 If there was anymore evidence on the pragmatism of our leaders when Singapore was first founded, this has got to encapsulate it.
The ability to construct the myth of Singapore from out of nothing is I think one of the most understated function of the People's Action Party. We were a country that was never meant to be, so our leaders rightly, and had no qualms, about using history to build the Singapore story. At first, we celebrated Raffles as our founder, yet as we veer further away from that time in history, we recognise our own "fathers" like Lee Kuan Yew. Oddly, we seemed to have forgotten that this land used to be occupied by natives like the Malays.
History is whatever suits the time it seems.