"Design Green! Skycourts & Skygardens" is a new event this month that looks more closely at this phenomenon. Architecture firm Pomeroy Studio have put together an exhibition on the evolution of skyrise greenery, discussions with leading practitioners such as Andrew Grant and Ken Yeang, as well as an installation to showcase with Shophouse & Co's Transitional___ programme to showcase how rooftops can be transformed in dense and built-up cities like Singapore.
Are skycourts and skygardens simply about planting greenery on rooftops?
JP: That is the common misconception. Not only are they places of potential greenery that naturally bring the environmental and bio-diversity properties of plants to the urban habitat, they are also social spaces that offer recreational amenity and places to meet, greet and congregate.
You make a distinction between "skycourts" and "skygardens", could you elaborate on the difference?
JP: Skycourts' are internal or external social spaces, often incorporating elements of greenery, that are located mid–point within buildings. 'Skygardens' has become quite a generic term used for the greening of social spaces in the urban habitat, but it is better described as rooftop garden social spaces.
What are some benefits of skycourts and skygardens?
JP: Spatially, skycourts and skygardens replenish the loss of open space one would normally use for social interaction through urbanisation. They provide the social function of bringing people together, and create a forum for communal activity. When planted, they can further assist in reducing ambient temperatures, reduce rainwater run–off, reduce noise, and enhance the bio-diversity of a place. They can also be income generating if the rooftop garden is used as an observation deck.
In your book, you argue that skycourts and skygardens are a way of replacing the loss of greenery as cities become denser due to commercial development. Are they equitable replacements?
JP: In an ideal world, we would have an abundance of forests that will help balance our eco-systems and cool the environment, but the reality is that we are increasing the concrete and glass jungle in lieu of the natural counterpart. Skycourts and skygardens is a means of helping to replenish the loss of urban greenery. In fact, we can measure the quantum of greenery using what is called the 'Green Plot Ratio' method to either maintain or enhance the appropriate greenery levels in the city for the environmental benefits.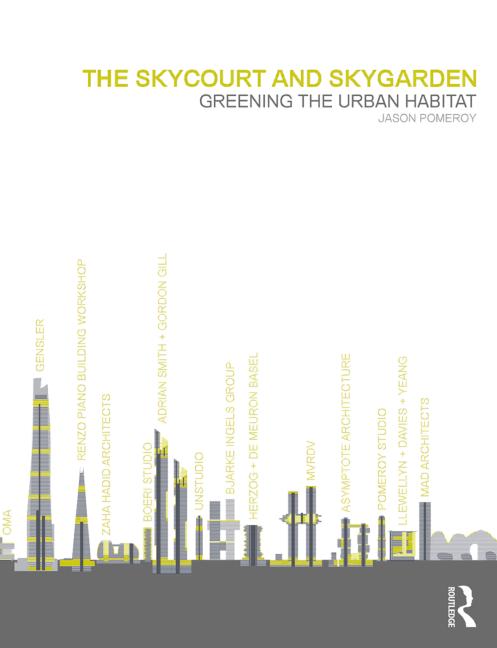 One issue with skygardens and skycourts is they currently exist in isolation and are inaccessible to many. How can this be changed?
JP: This statement may have been true 10 years ago, but things are changing. Examples completed more recently show the promise of more 'public' orientated environments, and their greater usage as an environment for transition as well as social interaction. Unlike their mono-functional predecessors that were less integrated with people movement patterns, newer skycourts and skygardens are more integrated into the cores of tall buildings–spatially linking vertical methods of circulation and facilitating people movement. They also socially link occupants through the heightened probability of chance meetings.
What is required for building skycourts and skygardens? Must architecture be designed to accommodate them?
JP: Just as we design the infrastructure for our cities (i.e streets, squares and boulevards to facilitate people movement and meeting) we similarly need to design into our buildings a 'vertical urbanism' that sees the skycourts and skygardens function as quasi 'squares' and the vertical transportation (stairs, elevators, ramps ) acting as the streets and passageways. Skycourts and skygardens should not be designed as superfluous additions to a building, but a fundamental part of the building's socio-environmental infrastructure.
HDB recently unveiled plans to add more rooftop greenery to public housing estates. Any thoughts on this development?
JP: As part of my recent architecture travel TV series "City Time Traveller", I visited Treelodge@Punggol and the Pinnacle@Duxton and was delighted to see steps being taken to green rooftops. This offers many benefits to the community; not least the ability to have recreational space for the inhabitants and potentially reduced running costs given the ability of greenery to reduce temperatures and thus the reliance on artificial cooling methods.
What are the challenges to the spread of skycourts and skygardes in a city like Singapore? Is it infrastructure, policy or social?
JP: I actually think Singapore is really living up to its vision of being a city within a garden. It has 2,800 hectares of parks and open spaces, and 3,300 hectares of nature reserves. That's 8 per cent of the city state's land area! So it comes as little surprise that it should have a natural penchant  for greenery to expand vertically given its high density/high rise nature. Much credit for this has to be given to the forward looking legislation in place that also offers economic incentives to developers to go green, and we as a green design studio are similarly strong advocates for such practices.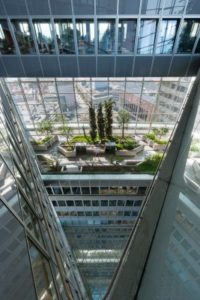 Can you give one example of a good skycourt or skygardem design? What's good about it?
JP: Commerzbank in Frankfurt by Foster + Partners is still a fine example of skycourt design, despite it being an older case study. The tall building was conceived as three 'petals' of triangular office floor plates, grouped around a central 'stem' formed by a full height atrium. Sealed sky courts, four storeys high, rise up through the height of the building, rotating every four storeys to the next face. The skycourts provide employees with an opportunity to view other skycourts above and below, as well the cityscape beneath and the sky above. These spaces provide a social dimension for the office employees to use as places of meeting, events, lunches or remote working.