When I read my magazines, it is usually on a MRT or bus ride with my iPod stuck in my ears. The music often becomes background noise if the magazine gets really interesting, but there are fleeting moments when the music and what I'm reading coincidentally resonate. Such moments struck me while reading UNDERSCORE Magazine, a new independent publication conceptualised by local design collective Hjgher. UNDERSCORE promises to be "attuned to a simple rhythm; the quality of life" and does so literally with a curated soundtrack to accompany your reading. Individual articles are matched with suggested music from artists like Jónsi & Alex and Mogwai to bring about a magazine that goes beyond your reading pleasure.
As a printed publication, the form of UNDERSCORE is no doubt a work of a design-conscious publisher. A typeface was created just for the magazine (UNDERSCORE) and it is printed on  Muken Print Cream paper — all this I can tell you, because it is printed on page 5. How many magazines make their design decision transparent to the reader? But, to make its form stand out is to invite scrutiny on its content. The question I had is how much of this magazine is an indulgence of a designer's delight or is it meant to be read?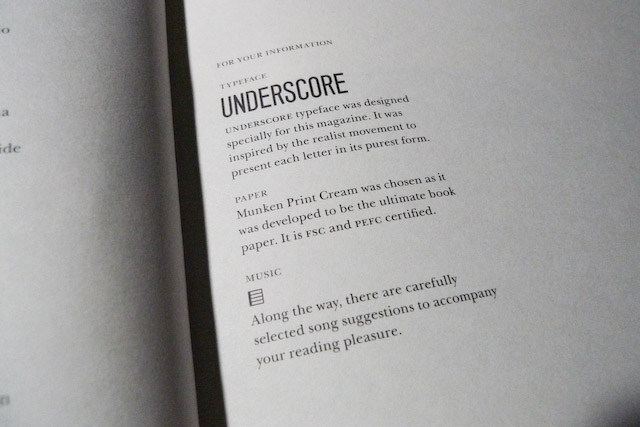 In this inaugural issue, the magazine was inspired by MUJI's art director Kenya Hara who is quoted as saying "Emptiness is a vessel waiting to be filled". That is why this is called THE _____ ISSUE, a clever play on its name and the issue's inspiration. The magazine is made up of interviews with artists like Sigur Rós, short entries on life in neighbourhoods around the world as well as essays on arts and culture — they are all meant to reflect UNDERSCORE's "core values of honesty, integrity, quality and authenticity". These are big concepts to fill into a vessel but Underscore's attempt to me seems half empty.
The idea of having music with written text is a really interesting concept in magazine that I have yet to see a lot. In a way, it pushes magazines slightly into the realm of multimedia that could make the printed medium more relevant to the world today. Moreover, it reflects the multi-tasking nature of life we live, we can hardly sit still to read, we need other elements to push us along. However, is it really possible to create something legible out of two creations that were not made in mind for one another? Yes. Listening to Thomas Feiner & Anywhen sing Betty Caine adds to the haunting feeling of a story about fatherhood. There are also more upbeat songs like Summertime by Girls that accompanies a photoessay of a Korean countryside. But, after a while, it seems that it might only work with atmospheric music, and the result is a sedated lull while reading the magazine. Not much of a rhythm there, if you ask me.
While I enjoy the concept of  juxtaposing selected music to the reading of my magazine reading, I'm not sure to what extent it affects the editing of writing to suit it. UNDERSCORE's essays rarely delve in-depth and seem more content in pacing itself to the end of a track. At times, it almost lacks purpose. This could be why some of the longer essays do not have accompanying soundtracks. But, as a whole, I'm still not sure how to read the magazine. Whose emptiness is it trying to fill? H/Publishing's desire of publishing its own magazine? If so, why should we want to read?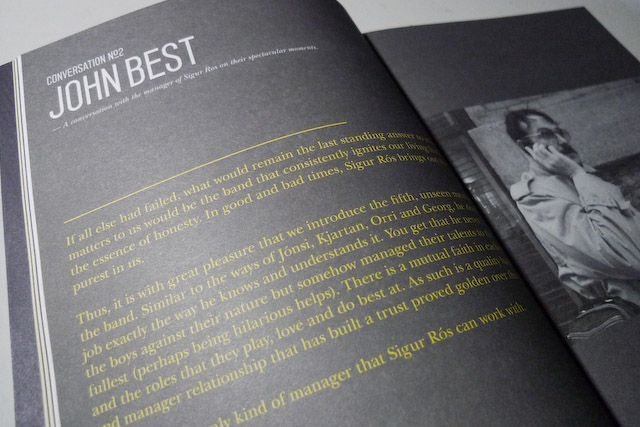 The local magazine scene in Singapore is hardly expansive. Besides titles in fashion, health, technology and men's interest, independent publications such as UNDERSCORE are a rarity. That is why I was, and still am, excited by the creation of something like UNDERSCORE. However, this magazine is clearly not limiting itself to the Singapore market. In fact, there is nothing Singapore in it. This means it is competing with many other major publications around the world, which I think because of where they are, have much more to offer. But, this being only its first issue, it is hard to know how it will take off from here. After all, for every one like me who views a vessel as half-empty, there is someone out there who sees it as half-full — and UNDERSCORE is a magazine still waiting to be filled.