Whether it is a chair, a shelf, or bed frame, every IKEA knock-down product is sold around the world with a similar assembly instructions design meant to be understood regardless of language, culture or experience in building furniture.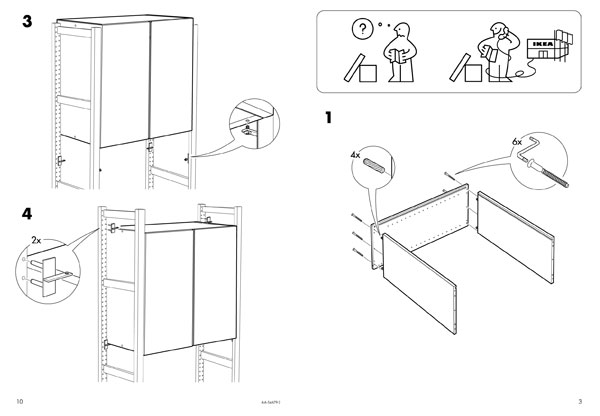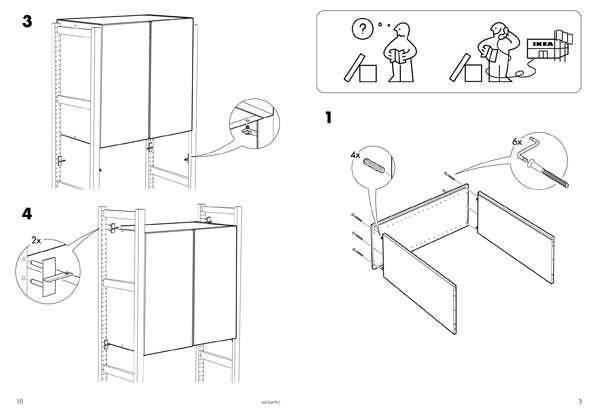 No words are needed when it comes to assembling a piece of IKEA furniture. Accompanying the Swedish company's knock-down wares is a set of assembly instructions that must guide Russians, Americans, Chinese, Egyptians, Dominicans and other nationalities to build their own IKEA products simply by following a series of line drawings.
Every IKEA assembly instructions begins with a promise: an image of what the product looks like when put together successfully. A comic strip comes next, as a cartoon character gives out general tips, including an assurance that any doubts can be addressed by calling the company — although no number is given. After running through a check-list of tools provided, the customer is ready to begin self-assembly. Step-by-step, the following pages illustrate how the dismantled pack of parts are assembled into the product when the instructions are carried out.
This formulaic instructions design is what IKEA has been developing since launching the LÖVET side table in 1956, the company's first self-assembled product. While no instructions were needed to put together this simple three-legged leaf-shaped table, the product kickstarted IKEA's expansion into knock-down furniture and led to the birth of its assembly instructions. Founder Invar Kampard started selling such furniture in his mail-order business after seeing company designer Gillis Lundgren saw off the legs of a table to transport in his car. The Swedish entrepreneur realized the sale of knockdown furniture meant the most expensive parts of his business — assembly and transportation — were shared with customers instead.
Originally just hand-drawn leaflets given out at its stores, IKEA's assembly instructions are now digitally-rendered booklets found in the flatpack of every one of its self-assembled products. These instructions are designed by a team of "informative communicators," made up of people trained in design and illustration, as well as diverse fields such as sales, engineering, and even truck driving! Together, this team of 13 full-timers based in Älmhult, Sweden, churn out some 400 new assembly instructions annually, and also make some 900 edits to existing ones based on changes in existing products.
Informative communicators typically work on new assembly instructions only after IKEA's designers, developers, and technicians complete the design and construction of a knockdown product. Beginning with the physical piece in front of them, the informative communicator digitally translates a technician's assembly suggestions into a set of instructions that must be tested to work before a piece is signed off for production. The aim is simple: that anyone can assemble an IKEA product by themselves.
"If the product is not designed for simple self assembly, it cannot be saved by an assembly instruction," explained IKEA production leader Antonia Pehrson and informative communicator Pär Zimmerdahl in an e-mail interview. "We know that they (the manuals) have succeeded when a test person manages to assemble the product without any written text in the manual."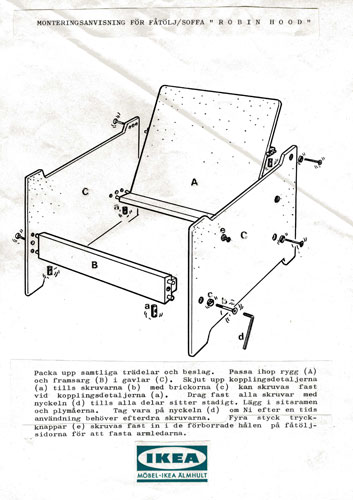 Instructions without words is just one way IKEA  keeps the design of its assembly guides as clear and simple as possible. Instead, customers are guided by illustrations printed in black-and-white to minimize confusion, while grey tones are occasionally used to highlight important assembly steps. This basic style complements instructions designed to ease the customer's assembly experience. Unlike the "exploded view" in many instruction manuals that present a product's components floating into place with just a few images, IKEA guides customers through assembly step-by-step. Not only do illustrations match how a product looks like in front of customers at each stage of assembly so they do not miss a step, they are even organized to ensure a good start.
"The manual is planned so that the customer can see an early success. For example, if you assemble a chest of drawers, you start with the frame, which gives you a greater sense of gratification," wrote the duo from IKEA. "We know that seeing bigger parts of the furniture completed at the beginning of assembly makes you want to continue and finalise the assembling."
This current design approach was drawn up after a 1999 IKEA study discovered its customers were confused by previous assembly instructions. Before the redesign, instructions were overloaded with information, and illustrations were small and had too many points of focus. Assembly steps have since been cleaned up and broken down to make them easier to understand, even if this means using more pages. The now iconic IKEA cartoon character — known by its team of creators only as "the assembly figure" — was also introduced to help customers think ahead, offering tips at the beginning of the instructions, such as what surfaces to assemble upon or if extra help is needed. What remained was the instructions' no-frills design, an aesthetic that television presenter Ulrika Jonsson once compared to her affair with the Swedish football manager Sven-Goran Eriksson: "Sex with Sven was as ordered and functional as an IKEA instruction manual."
The company's sexier name for this is "Democratic Design," an approach which seeks to achieve the right mix of form, function, quality, sustainability and price. The modern and simple aesthetics of the company's assembly instructions and products is less an expression of a Swedish style, but more the result of pragmatism — a cost-effective design for mass storage, distribution and consumption. After all, "producing beautiful furniture is not difficult. The difficultly lies in producing it at a price which most people can afford to pay," explained IKEA in its 50th anniversary publication.
By omitting words from its assembly instructions, the same design can be distributed globally, saving time, money, and the environment. "If we would use written text, we would have to translate into 35 language versions each time there is an update, with risk of misspellings, incorrect translations or misinterpretations when translating," explained production leader Pehrson and informative communicator Zimmerdahl. They added that one of the few instances when different versions of assembly instructions are created is for certain products sold in earthquake-prone countries which need additional instructions on securing onto a wall.
Like the pictograms on airport signage systems around the world, IKEA's graphics-only assembly instructions are found across its current range of over 10,000 products sold in 358 showrooms across 44 countries today. This A4-size manual is just one component of a universal design system assembled to serve the company's international operations and sales. Take its IVAR cabinet assembly instructions for instance, also labelled AA-54679-2 on its bottom-right pages. According to this 13-steps instructions, the included hexagon key 100001, is used on screw number 100214. The same key is also used to tighten screw number 106569 when assembling the HEMNES day bed, states manual AA-388591-2. All the furniture parts, components, and assembly instructions for building an IVAR cabinet fit into flat pack number 400.337.63 — a label which helps customers find the package in an IKEA store, regardless if it's in North America, Europe, or the Middle East! (Stores in Asia Pacific use a different set of numbers.)
Despite its simple design and graphics-only approach, IKEA assembly instructions are far from universally understood. While some appreciate its simplicity, others see it as simplistic. In 2006, American humour writer Mike Sacks was so frustrated with assembling the company's shelving system that he created a satirical "IKEA Instructions" comic for GQ magazine to illustrate how challenging it was without words. He was not alone.
"I've received emails from people who posted the piece on their refrigerator, at work, and elsewhere. There seems to be a big frustration with IKEA. On the one hand, their products look great. On the other hand, they tend to be cheaply produced and very difficult to assemble," he said. "I think, literally every time I've put together an IKEA product, I've had to reverse steps and turn a part around. This may be due to my difficulties with spatial relations, and yet I'm not an engineer, and neither are the vast majority of those buying IKEA products."
Personal challenges with the company's assembly instructions may also have led former Norwegian prime minister Kjell Magne Bondevik to call them sexist in 2005. When asked to comment on a newspaper finding that IKEA's instructions mostly depicted males assembling furniture, Bondevik speculated that the company feared Muslims would be upset by the portrayal of women, and it was unacceptable to exclude female representation."I myself have great problems with screwing together such furniture," he added.
In response, IKEA clarified that it did depict women in its assembly instructions, but promised to correct an existing imbalance. The company also explained then that women in it's assembly instructions do not wear short skirts or sleeves as certain cultures found this offensive. This is just one example of how the company's globally-distributed assembly instructions are designed to accommodate different cultures. In addition, the IKEA assembly figure has no gender, and in the company's on-going experiment with animated assembly instructions online, the video guides also feature a cast from different cultures too.
Even as IKEA strives to make its assembly instructions accepted and understood across all cultures, they have at least become as recognized globally as the company's products. Go online, and one can easily find spoof IKEA-style assembly instructions on how to construct almost anything: babies, a Star Wars light saber, the Stonehenge in England, and even your very own IKEA-style assembly instructions! These reproductions are a testament of the assembly instruction's simplicity. The methodical and uncluttered design of IKEA's manuals have become a visual shorthand around the world for how to explain (or look like you're explaining) all sorts of complicated constructions and processes. The instructions are simple: show, don't tell.
———
An essay adapted from "Instructions on how to assemble a future IKEA" originally for Works That Work magazine.