Exhibition Review: Out of Hand: Materializing the Postdigital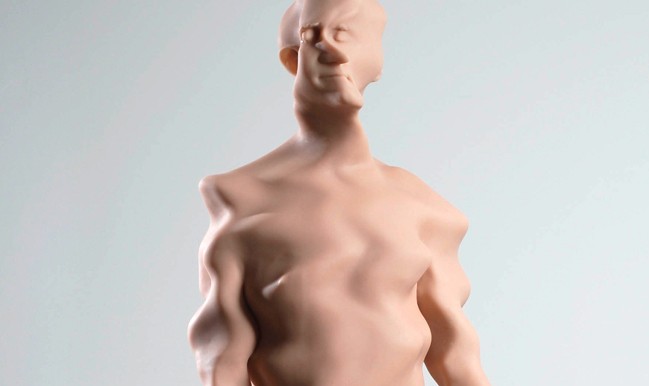 Who would have thought the day would come when your printer could produce a real live gun.
Three-dimensional printers are becoming a staple of many homes, allowing people to print anything from jewelry they can wear to edible ravioli. And as this technology becomes more affordable — some models are already going for under $1,300 — it is only a matter of time before a 3-D printer joins the computer and microwave as just another home appliance.
Now the Museum of Arts and Design in New York City is taking a look at how 3-D printing and other digital fabrication technologies are changing the way artists and designers make. The exhibition, "Out of Hand: Materializing the Postdigital," features over 120 works by contemporary artists, architects and designers that were either designed or fabricated using computer-assisted production.
Given the hype that has accompanied such technologies, the collection of objects from 2005 to the present makes the "postdigital" era seem far from groundbreaking, and even familiar. Works such as a white nebulous-looking lamp by Bathsheba Grossman and a red ribbon-shaped rocking chair by Ron Arad will not look out of place at a design retail store. Both were created almost a decade ago and have been available for sale for several years now. It is a reminder that digitally fabricated objects have been in our midst for some time now, and the technology is not so new after all.
Most of the objects assembled across almost three floors of the museum show how the technology has freed artists and designers from the constraints of traditional production techniques. This is playfully suggested in Richard Dupont's sculpture of himself, whose mirage-like form would take forever to sculpt by hand. The work aptly fronts the exhibition's publicity materials as an icon of how digital fabrication is re-shaping human life. Another work by Michael Hanseyer demonstrates how intricate digital fabrication can get with a column made from a stack of 2,700 sheets of laser-cut one-millimeter board. However, the work like several others sees the creator give up creative control to the novelty of what digital fabrication offers instead. Rather than create new forms and ways of making, many of the exhibition's works simply show off how they can outdo current methods of making.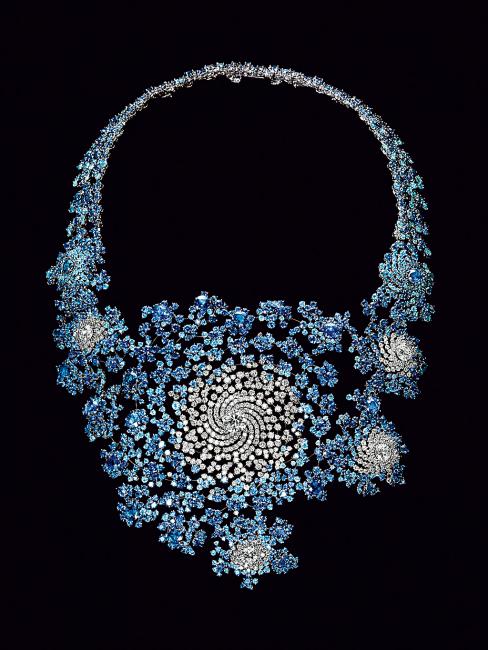 A similar wide-eyed fascination with the effects of digital production can also be said of the works in the show that curator Ron Labaco regards to have been inspired by nature and geometrical forms. Marc Newson created a necklace resembling a galaxy of stars that if one did not know its digital origins would simply be seen as an elaborate piece of jewelry design. Similarly, German designers Wertel Oberfell and Matthias Bär simply visualize the mathematical concept of fractals in the form of a broccoli-like chair with a honeycomb top, a design pattern that will look regardless if you create bigger or smaller versions of it. In both these works, and many others in the exhibition, an aesthetic formula for digital fabrication emerges: a complex mosaic of basic geometric units. Considering the different starting points of the works, the lack of diverse forms reflects both the limitations of current digital fabrication technology and how practitioners are using it.
To be sure, some objects produced by 3-D printers may seem ordinary because we've already grown used to them. As the wall text explains, "the amazing digital achievements of the last few decades are now taken for granted." To judge the works only by their aesthetics is to overlook the time and material savings of making in this way. Compared to using the hand or traditional production, digital fabrication techniques are precise and easily controlled via a computer. But this process is not evident as each work is only tagged with the digital production method they are made in. Visitors unfamiliar with them or the history of production will have no sense of how these techniques democratize the process of making.
A small set of more experimental works, however, offers a more tantalizing glimpse of the potential of the digital process. In objects by Anish Kapoor and Jan Habraken, one begins to see how new technologies offer more than just new aesthetics. Kapoor's set of sculptures resembling real coral rocks blurs the distinction between the creation of nature and something digitally-made, and one is left to wonder what cannot be designed by man anymore? Habraken uses digital fabrication as a kind of biological womb to "breed" the ideal chair out of existing ones. Digital technology allowed him to single out unique elements of chair designs, which he then easily mixed, matched and modified to create something entirely new. This is similar to the desktop publishing revolution over two decades ago when computers allowed people to design and print whatever graphics they wanted.
This freedom to make things will be the lasting impact of digital fabrication and was evident in the exhibition's works that people spent the most time with. While some got their hands "dirty" sculpting on a virtual pottery wheel by Unfold and Tim Knapen, others made noises or whistled into François Brument's installation that digitally generated vases whose shape and size varied depending on the kinds of audio input. These works demonstrated how technology was changing the act of making, but the visitors' creations — pots and vases that simply differed in shapes and sizes — suggest a lot more work is needed in thinking about the possibilities of making with digital fabrication.
The technology is clearly fascinating people given how the most popular feature of the exhibition is a booth sponsored by Shapeways, a 3-D printing company. Visitors can design their own objects on computers provided, and even line up to get scanned and printed for a miniature 3-D self-portrait. This is an apt ending for one of the first exhibitions on a set of technologies that is becoming increasing common in our everyday lives. What better way to introduce it to the masses than by letting them take home their first digitally fabricated product: an image of themselves?
———–
Written for Robin Pogrebin's Reporting Tools workshop at D-Crit.