Clad in grey and white tiles, arising 11-storeys above the ground, the China Cultural Centre towers over Queen Street in Singapore. Like a fortress, the boxy development thrusts itself out between an eccentric-looking hotel and the generic blue-and-white striped public housing podium block, maximising every inch of its sovereignty as the bulwark of Chinese culture in a foreign land. Established by the People's Republic of China to promote and facilitate cultural exchange with Singapore, this centre is part of a network the rising superpower has established around the world as part of its global charm offence.
If China-backed infrastructure is changing the face of cities in developing regions such as Africa, then cultural acupuncture is its other weapon of choice, particularly for developed cities such as Paris, Seoul and Berlin. The China Cultural Centre in Singapore, which officially opened last year to mark 25 years of diplomatic relations with the host country, offers an alternative to existing "Chinese" developments in a city that is pre-dominantly Chinese. While existing Singapore-developed spaces like the Chinese Garden (1975), Chinatown Historic District (conserved in 1989), the Sun Yat Sen Nanyang Memorial Hall (1994) and the Chinese Heritage Centre (1995) have used the narrative of the "overseas Chinese" to shape the identity of the Singaporean Chinese, the China Cultural Centre and the Confucius Institute in one-north offers a contemporary face to who the Chinese are today.
The new cultural centre is also a concrete manifestation of how China is increasingly linked to Singapore as its "urban solutions" provider. The Singapore centre marks the first time it is designed by a citizen from the host country: Liu Thai Ker. Lauded as the architect of modern Singapore, the former chief of the city's public housing, and later, urban planning, has built up close ties with the Chinese since he briefed its late premier Deng Xiao Peng on the urbanisation of Singapore over three decades ago. Since then, Liu has been the go-to for advisor for several Chinese cities including being invited to chair the jury for the master plan of the 2008 Beijing Olympics Park. 
Liu has been joined by a host of other Singaporean architecture and urban planning firms in developing the new face of China, particularly since the Singapore government kickstarted the Suzhou Industrial Park in 1994. Despite early setbacks, including the government setting up a competing park next door, Singapore has pressed on in exporting its urban development expertise with the creation of the Singapore Cooperation Enterprise in 2006 by the Ministry of Trade and Industry as well as the Ministry of Foreign Affairs. This has found some success in Indian and African cities, but Chinese cities remain one of Singapore's biggest clients. Besides government to government projects such as the Eco-city in Tianjin (2007) and an upcoming initiative in Chongqing, there are also commercial developments—Nanjing Eco Hi-Tech Island (2009), Guangzhou Knowledge City (2010), Jilin Food Zone (2012), Sichuan Hi-Tech Innovation Park (2012)—involving a network of Singapore companies. These include developers like Keppel Land, Sembcorp, and the recently merged Ascendas-Singbridge which sees Temasek and JTC Corp working together to compete for what they estimate to be S$4 trillion global urban planning market. Through the government and these developers, Singapore architects and urban planners such as CPG Consultants, DP Architects, RSP Architects (where Liu is Senior Director), Surbana Jurong, and SCP Consultants have successfully entered China to shape the future of its cities.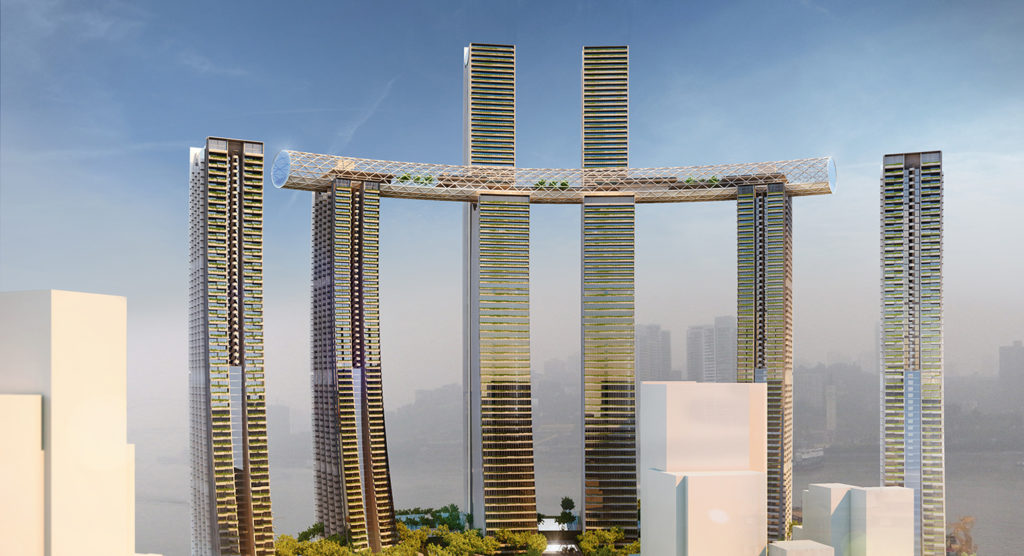 This growing development raises intriguing questions. Will China come to resemble an upsized version of Singapore in the coming decades? There are already a proliferation of shopping malls by Singapore developer CapitaLand, including an upcoming Raffles City Chongqing in which starchitect Moshe Safdie seems to have designed a larger version of his iconic Marina Bay Sands for Singapore. Conversely, how will Singapore be shaped from its close urban relationship with China? The China Cultural Centre could be a harbinger of how Singapore develops as more of its architects operate in the megacities of China: where this colossal foreign relations centre now stands was once a two-storey community centre that fit much more snugly into the neighbourhood.