The redesign of Pioneer magazine, the Singapore Armed Forces' (SAF) publication for public consumption, has, in my opinion, achieved the important goal of reaching out to its audience.
It has done so by mimicking and even blatantly copying the design language (so much for being Pioneer) of "lad mags" such as Stuff Magazine, T3 and Wired. This explains the neon colour palette, diagonal-line background, Web 2.0 typefaces and icons that literally burst out of the pages. Aping a look that is familiar with the magazines its target audience reads is a sure way to stay relevant.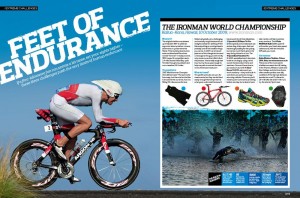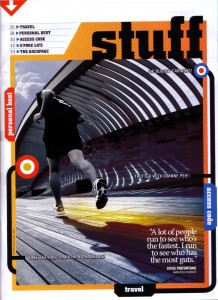 Left is a spread from Stuff Magazine in September 2009, on the right is a page from Pioneer's August issue.
But beyond it's self-proclaimed "fresh look" from the August issue, is there really a "new beginning" as it touts? The core content that features the latest happenings in the SAF remains but what has been given a boost in line with its new look is more content pertaining to lifestyle issues.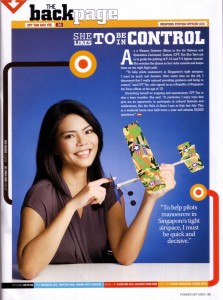 This lifestyle push plus the "lads mag" mentality has also produced a new section called "The Back Page" which featuresdeserving people who work in the SAF — thus far four women, none dressed in military garb. While it is not stated specifically that only women will be featured, how possible is it that the majority gender has not been able to nominate someone deserving from their own kind? Without a criteria to judge who is considered deserving, and the only common thread thus far is they are all women, one can only conclude there must be a policy to objectify women in the magazine to appeal to its readers.
The redesigned Pioneer magazine definitely looks livelier and more exciting. But with each new issue, I find myself less excited than the last. Under all the bells and whistles, hardly anything has changed since it started 40 years ago, it is still a newsletter of propaganda about our military.