Whether it is a chair, a shelf, or bed frame, every IKEA knock-down product is sold around the world with a similar assembly instructions design meant to be understood regardless of language, culture or experience in building furniture.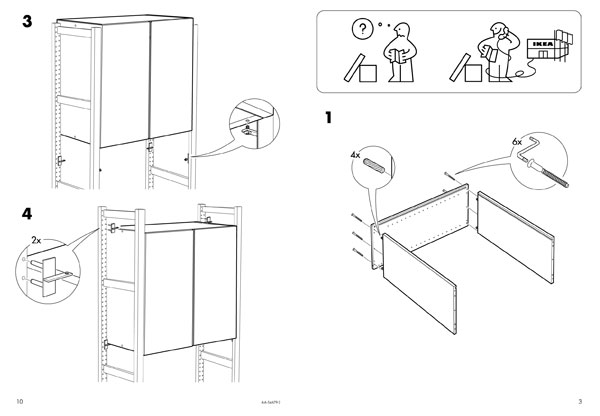 No words are needed when it comes to assembling a piece of IKEA furniture. Accompanying the Swedish company's knock-down wares is a set of assembly instructions that must guide Russians, Americans, Chinese, Egyptians, Dominicans and other nationalities to build their own IKEA products simply by following a series of line drawings.
Every IKEA assembly instructions begins with a promise: an image of what the product looks like when put together successfully. A comic strip comes next, as a cartoon character gives out general tips, including an assurance that any doubts can be addressed by calling the company — although no number is given. After running through a check-list of tools provided, the customer is ready to begin self-assembly. Step-by-step, the following pages illustrate how the dismantled pack of parts are assembled into the product when the instructions are carried out.
This formulaic instructions design is what IKEA has been developing since launching the LÖVET side table in 1956, the company's first self-assembled product. While no instructions were needed to put together this simple three-legged leaf-shaped table, the product kickstarted IKEA's expansion into knock-down furniture and led to the birth of its assembly instructions. Founder Invar Kampard started selling such furniture in his mail-order business after seeing company designer Gillis Lundgren saw off the legs of a table to transport in his car. The Swedish entrepreneur realized the sale of knockdown furniture meant the most expensive parts of his business — assembly and transportation — were shared with customers instead. Read more